Para Sports Society of Chandigarh PSSC constituted, GBM held
Lippi Parida becomes chairperson of PSSC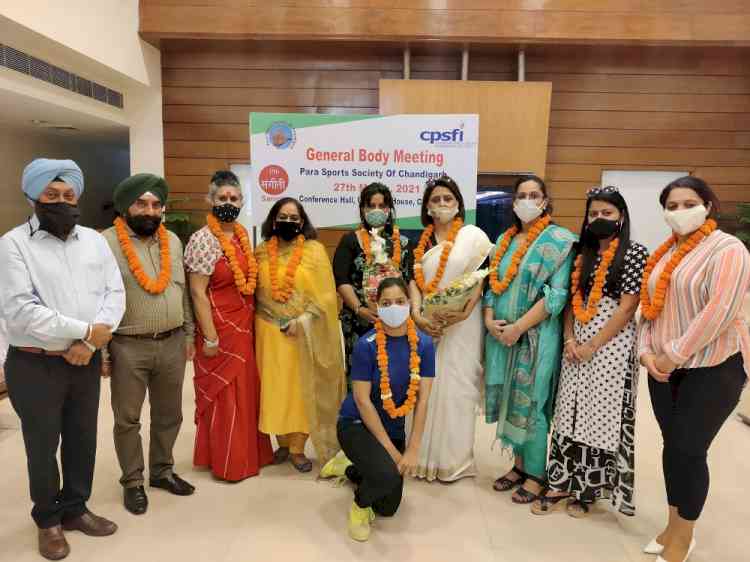 Lippi Parida (5th from left) who has been appointed as Chairperson, PSSC, alongwith other office bearers of the society. PSSC aims to provide a sports platform to cerebral palsy and mentally & physically challenged.
Chandigarh: Para Sports Society of Chandigarh (PSSC) has been constituted in association with Cerebral Palsy Sports Federation of India (CPSFI), to promote sports among children suffering from Cerebral Palsy (CP)- a chronic disability in children, making them challenged both physically and mentally . The society will also provide a sports platform to children suffering from other physical & mental challenges. It is to be noted that CPSFI is an apex body promoting Cerebral Palsy Sports, providing the athletes with a platform and opportunities to showcase their sporting capabilities.
Office bearers of PSSC were also announced. Wife of UT Adviser Ms. Lippi Parida is the Chairperson,  Ms. Poonam Sood, President, Ms. Vanita Talwar, Sr Vice President, Ms. Sharmita Bhinder, Vice President, Dr. Deepshikha Goel, Vice President, Mr. Kashmira Singh, Honorary Secretary & CEO, Ms. Arshdeep Kaur, CP Athlete Representative. The executive  board members were also announced, these include  Ms. Richa Agrawal, Ms. Amrita Kaur, Mr. Ajit Singh, Mr. Davindar Kumar, & Ms. Sheetal Negi.
Members of the newly constituted PSSC  also held the society's 1st General Body meeting at the UT Guest House, here under all COVID 19 SoPs'. CPSFI to which PSSC is affiliated has a 4 stage process as a part of its journey with athletes. Sangiti (awareness program),Pratibha Yogita (talent hunt/identification), Prashikshan (training program), & Pratiyogita (competitions).
Mr. Rajesh Tomar, President, CPFSI said, "Alongside the GBM of PSSC , CPSFI's 17th 'Sangiti' meet was also held to build an awareness about CP sports amongst the members & officials on the board. This was done to empower the members in their journey of promoting CP sports in Chandigarh."
Ms. Lippi Parida, Chairperson , PSSC  said, "A bunch of like-minded individuals who believe in the cause and helping CP children to  participate in sports activities have come together in Chandigarh. The Board of PSSC largely comprises of women, young and experienced, successful in their respective chosen careers and from varied backgrounds. PSSC looks forward to associating with CPSFI and promote CP sports in Chandigarh."
Mr. Sukhdarshan Likhi(IPS) Retd., Chairman, Cerebral Palsy Sports Society of Punjab said, "The vision is to create a platform for people with cerebral palsy to participate in adaptive sports which helps improve their physical, psychological & social well being."
Ms. Poonam Sood, President, PSSC said, "We are  hoping to reach out to a sizeable number of CP children for participation in cerebral palsy sports in Chandigarh and working with children with CP and other conditions." 
Ms. Vanita Talwar, Sr Vice President, PSSC said, "CP children Arashdeep Kaur, Baljeet ,David and Daniel were also present today , who gave a self introduction  too. Our aim is to make these kids healthy, happy and accepted in society."
Ms. Sharmita Bhinder , Vice President , PSSC said , "PSSC's objective is to take sports to every corner of Chandigarh, so as to promote & popularise sports among persons with disabilities."
    
Cerebral Palsy (CP) is the leading cause of chronic disability in children, making them physically and mentally handicapped and socially aloof.  In India, it is estimated there are around 3 cases per 1000 live births. There are about 25 lakh CP children in India as per the last statistical information.