Panjab University organizes webinar on radiation safety in diagnostic nuclear medicine
There were more than 40 participants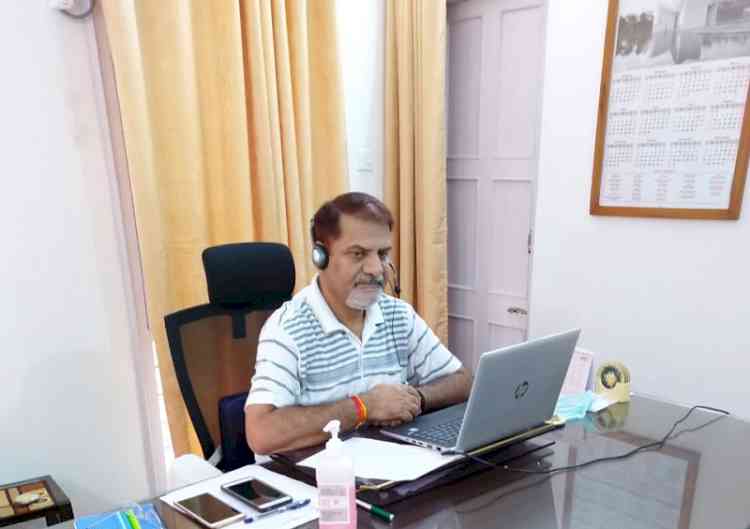 Professor Raj Kumar, Vice-Chancellor, PU, Chandigarh.
Chandigarh: Centre for Nuclear Medicine jointly with Centre for Medical Physics, Panjab University, Chandigarh organized a webinar on the theme "Radiation Safety in Diagnostic Nuclear Medicine". 
Professor Raj Kumar, Vice-Chancellor, PU  in his opening remarks  laid stress on the importance of interdisciplinary approach in research which will give great impetus for drug development particularly to combat present day challenges like COVID-19 and other such ailments. He also emphasized on the significance of present webinar since nuclear medicine procedures make use of radioactive substances that can have serious health effects on radiation workers and general public if safe practices are not adopted. Therefore, when working with radiation, diminishing exposure should be the top priority and radiation safety procedures is pertinent to be adopted and practiced.
Dr. Vijayta D Chadha, Chairperson of Centre for Nuclear Medicine welcomed the participants and introduced the speaker Dr. Subhash Chand Kheruka from Sanjay Gandhi Post Graduate institute for Medical Sciences, Lucknow. While addressing the participants, she shared that though the whole world is under the clutches of a pandemic but we must stay interconnected to our community and academics through the webinars. Dr.Kheruka discussed about the various sources of radiation exposure, radiation detecting instruments, radiation hazards and risk assessment of cancer. He emphasized that the radiation workers must use personal monitors diligently and minimize exposure by reducing time and maximizing distance as well as shielding. In conclusion, he said that the best medicine to get rid of worry of radiation is to stick to Radiation protection rules prescribed by the regulatory authorities.  
More than 40 participants from Panjab University, Chandigarh, Ram Manohar Lohia Institute of Medical Sciences and Sanjay Gandhi Post Graduate institute for Medical Sciences, Lucknow including students, research scholars and faculty members attended the webinar and had an interactive session with the speaker.