Panchkula's modelling star 7-year-old Vihaan Chaudhary makes 50 tik-tok videos during lock-down
Vihaan's request to God – Please make 'Corona Go', Vihaan posts campaign on social media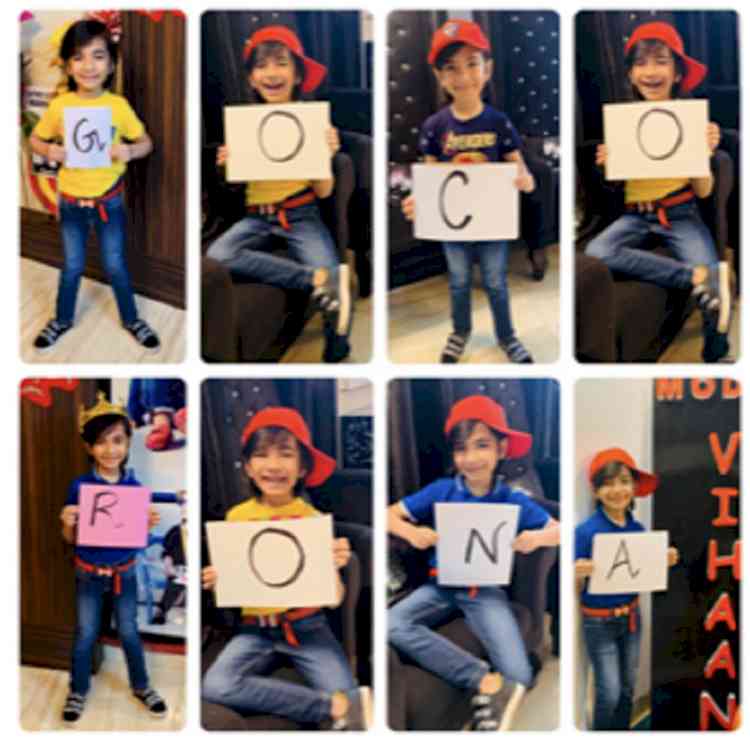 A glimpse of the social media campaign conducted by 7 year old Vihaan Chaudhary.
Panchkula: Vihaan Chaudhary, is just 7-years-old but is quite popular as a child celebrity of tricity due to his achievements as a model on the ramp and even as a child actor. A student of The Gurukul, Sec 20 here, this little bundle of talent has won many accolades as a model. Some of the major ones are Junior Super Model in 2016 and Lil Icon in 2017. It is pertinent to mention here that Vihaan's mentor in his 'modelling journey' has been Sakshi Nagpal who is the Founder of Sakshi Nagpal Photography and The Bunny Picture Production.  
The little model has kept busy during the closure of schools and the lockdown by developing creative tik tok videos all of which give a social message using a humorous theme. He collaborated with his father Eesh Chaudhary in this endeavour. Says the child model-cum-actor who has already done about 80 modelling assignments, "I believe that every child has some or the other talent. During lock-down children instead of wasting time in playing video games and watching videos on smart-phones, should engage in creative activities." 
The creative projects done by Vihaan are praiseworthy. Not only tik tok videos, he has also developed a creative campaign in which he requested God through placards to make 'Corona Go'. The campaign ran on social media.
Vihaan is son of Eesh who has also been Mr.  Chandigarh 2009 & Shivani Chaudhary. Says Shivani the proud mother, "Vihaan started showing interest in modelling at the age just one & actually got involved in doing modelling assignments at the age of three. The tik tok videos he has made are an appeal to all to support PM Modi in India's fight against the Corona Virus pandemic. We as parents have always supported all his creative endeavours."
It is noteworthy that Vihaan has worked in music videos of well known Punjabi singers Preet Harpal and R NAIT.