PADHO PUNJAB PADHAO PUNJAB TEAM PREPARING DIGITAL TOPICS FOR ENGLISH AND SOCIAL STUDIES
Students gear up for test on Saturday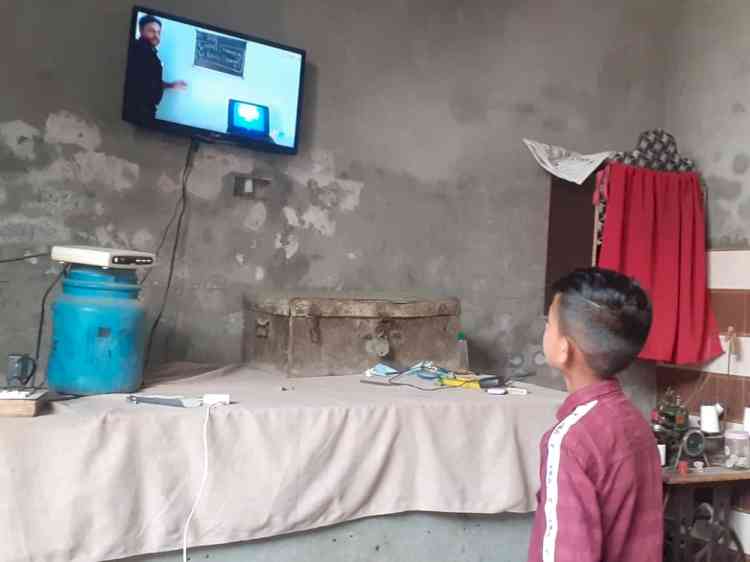 A student of a government school watching a lecture being telecast on TV as the schools remain closed due to Corona pandemic.
Ferozepur: In a unique initiative, PPPP (Padho Punjab Padhao Punjab) Team of Ferozepur for SST and English subjects has led from the front to realise the goals of 'Ghar Baithe Shiksha' programme being run by the education department when the schools are closed due to corona scare. The district team of block mentors is busy in preparing many digital topics, which the department is uploading as lectures to be delivered on TV and other social medias. An online test of English and Social studies for 9th and 10th class is being held on this Saturday.  
Since the closure of schools on March 22, the district team has been preparing various topics of English and Social studies. The team led by District Mentor Gurwinder Singh has been holding frequent video conferences to prepare the assignments given by the head office, Chandigarh. Dwelling about the efforts being put by his team, Gurwinder said, "Block mentors who lead their respective blocks, are putting in diligent efforts to prepare the topics, which the teachers have been using to teach the students through various apps on social media. The department is holding an online test through a google sheet which will be forwarded to all the high and senior secondary schools of the district". 
Shivani Monga, Headmistress of Govt High School, Chak Gubayai said that the students of her schools are being provided with topics of various subjects which they can study at their homes. Our teachers are making regular calls to teach the students who don't have facility of online media. We have already made online enrolment of the students. While, Deputy Education Officer Komal Arora said he has made personal calls to the principals of various schools and have instructed them to motivate the students to attempt the online test of English and Social studies to be held on Saturday.   
Notably, the DM has to attend many video conferences being held by the head office and the district education team. He has to take into fold his BMs (block mentors), who are preparing and distributing the topics to the teachers to be sent to the students. "The initiative to take online classes got a lukewarm response in the beginning of the lockdown, as many felt that every student of government school doesn't have access to internet. But the data available with the department reveals that as many as 1,85,643 of class 10th alone are taking online classes", said Gurwinder Singh.