Paddy procurement in Ludhiana gains momentum as nearly 40pc of expected crop procured
7.11 Lakh metric ton paddy procured, payment worth Rs 1101.05 crore made to the farmers: DC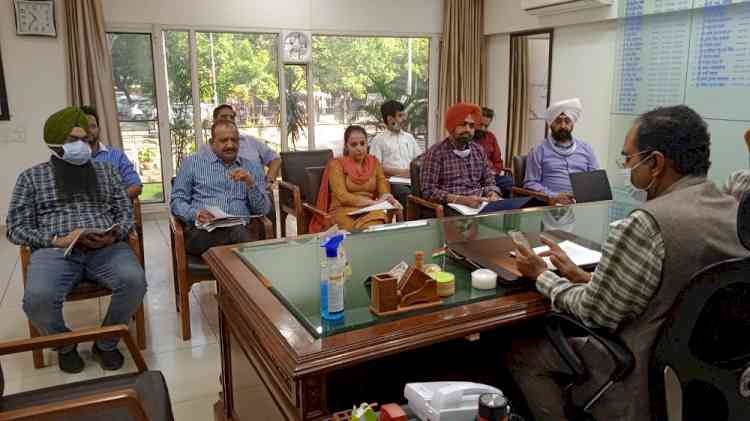 Ludhiana, October 28, 2021: Deputy Commissioner Varinder Kumar Sharma on Thursday said that the procurement of the paddy in the grain markets across the district has gained momentum as the administration has procured 688395 metric ton of the paddy in the various grain markets which is nearly 40 percent of expected arrival of crop. 
Presiding over a meeting here at his office, the Deputy Commissioner said that the arrival of the grains has touched 711500 metric ton mark against the expected arrival of 17.53 lakh metric tons paddy. 
He said that a total of 711500 metric ton of paddy has arrived in the grain markets across the district. Out of which 688395 metric ton paddy has already been procured and a payment worth Rs 1101.05 crore has been made to the farmers. He added that 89 percent of the procured paddy has also been lifted from the markets. 
Sharma asked the heads of procurement agencies that now when the procurement of grains has picked up momentum, all out efforts must be made to ensure that each and every procured grain gets lifted at the earliest.
The Deputy Commissioner said that every agency must ensure that its quota of grains lifted from the grain market as soon as it arrives in the market. He said that district administration is committed to ensure that farmers do not face any sort of problem while selling their harvest in the mandis across the district. 
Sharma appealed to the farmers' to bring moisture free grains to the market for avoiding any sort of inconvenience to them.
Prominent among present on the occasion included DFSCs Harveen Kaur, Surinder Kumar Beri, DM Punsup Jagandeep Dhillon, DM Warehouse MP Singh, Deputy DMO Bir Inder Singh Sidhu and others.