Pactera EDGE to open one more campus in Hyderabad
Pactera EDGE has a strength of 1500 employees in its India center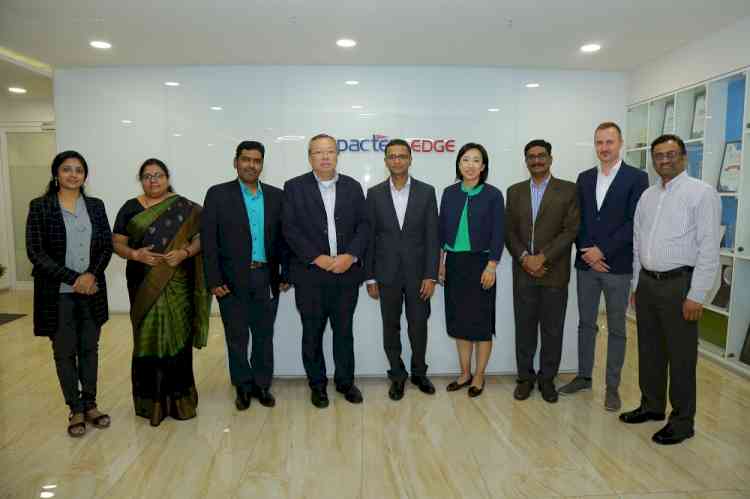 Seen Muthukaruppan Lakshmanan(VP of Global Delivery Partner), Jonas Ryberg(Chief Globalization Officer), Narayana Murthy(Country Head), Vicky Hu(Strategic Business Unit Head), Venkat Rangapuram(CEO), Heng Choon Lim(CFO), Dinesh Chandrasekar(Chief Strategy Officer), Sailaja(HR), Reshmi Arun(Marketing Head) (from right in the pic).
Hyderabad, August 9, 2022: Pactera EDGE is a global digital and technology services company headquartered in Redmond, United States with a global presence in APAC, EMEA, and China. The CEO of the company is Venkat Rangapuram who has held multiple senior positions at Pactera EDGE before rising to the position of CEO. Pactera EDGE serves Fortune 500 clients spanning various industries including Retail & CPG, Logistics, Manufacturing, Financial Services, and Hi-Tech. Pactera EDGE's client list also includes Fortune 500 companies from around the globe. The Company is going strong with global revenue of $200M as of FY 2021-22.
 
Pactera EDGE was started in 2018 in Hyderabad with three employees. Like any other tech start-up, their journey began by taking small steps in the domain of Information Technology. Starting from a thirty-seater office, Pactera Edge is now operating from a world-class facility at Raheja Mindspace with over a thousand five hundred employees. The organization has grown by 33% CAGR in the last four years of its existence. Pactera EDGE focuses on three essential pillars of digital ecosystem - Data, Intelligence & Experience and offers inventive solutions in AI and Digital Transformation space, which includes Cloud, RPA, Data Monetization, and AI enablement services.
 
As of now, Pactera EDGE has a total strength of 1500 employees at their India Delivery Center, which is in Raheja Mindspace, Hyderabad. They are planning to onboard more than 1500 employees in the next 18 months. Apart from this, Pactera EDGE is also keen on starting another campus in one of the Tier 2 towns of Hyderabad. Their vision is to add more talent globally by year 2025 and become a workforce of 5000 employees.
 
Venkat Rangapuram, CEO of Pactera EDGE, while interacting with media said, "We specialize in preventing theft at the point of sale for some of the large Fortune 500 Retail Customers leveraging artificial intelligence and machine learning technology. We create the right analytical solutions for our clients that enable them to save millions of dollars annually. We are also backed by a very trained and skilled workforce globally. At our Hyderabad center, we are now a team of 1500 employees helping clients with innovative solutions. We are looking forward to expanding our operations further in Tier2 towns of Telangana".
 
Narayan Murthy, India Country Head for Pactera EDGE said, "We started our operations in Hyderabad in the year 2018 with a vision of delivering digital and innovative solutions in the field of Data, AI, and ML to our Clients. As of now, I am happy to say that we have grown to a workforce of 1500 in a short span of 3 years. We are hoping to include 1500 more employees in the coming 18 months. We at Pactera EDGE believe that employee engagement is the key factor for driving excellence. We make sure that our workforce is having the best experience while they are associated with Pactera EDGE. We are very interested in setting up our new delivery centers in Tier 2 town of Telangana as well."
 
Heng Choon Lim, CFO of Pactera EDGE said, "During the Pandemic the whole world was in an uncertain situation and the businesses were re-imagining their strategies. I can say that our relationship with the clients that we handle has strengthened during this phase. As of now, we are focussed on steady and safe growth. I am delighted regarding the growth of 30% that we have achieved in the recent past."
 
Dr. Dinesh Chandrasekar – CSO of Pactera EDGE said, "We have a unique digital strategy to empower the clients that we work with across the globe. Pactera EDGE is committed to delivering the best solutions using Artificial Intelligence and Deep Learning. To achieve the same, we have initiated a tie-up with the best start-ups that are operating from the campus of IIIT Hyderabad. This will be a win-win situation for both Pactera EDGE and emerging start-ups. As a part of this initiative, we will be selecting couple of start-ups that will be given an equity-free grant worth few lakhs for each start-ups. "
 
Narayana Murthy, Country Head, said, "I feel privileged and honored to be a part of this organization, which has a strong value system and a unified vision. The credit goes to everyone at Pactera EDGE who has trusted the leadership team. Our vision is to grow the company to three times its current size and work with the best minds to drive innovation and take our company to greater heights".