OPPO A54 launched in India, powerful specs proclaim "performance is power"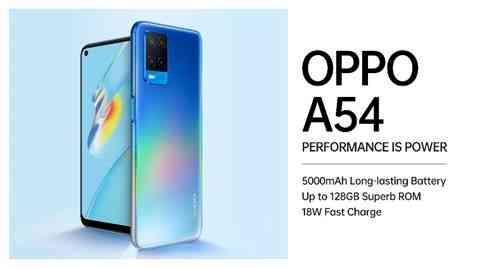 It boasts of 5000mAh long lasting battery, up to 128GB Super ROM and 18W Fast Charge

OPPO, the leading global smart device brand, today announces the launch of the all new OPPO A54 in India. 
OPPO A54 users are on the search for a phone that meets their expectations, and one that can keep up with them, but also hit all the right notes with a beautiful design and high-end performance. A54 keeps up with you all day with a large 5,000mAh battery and 18W Fast Charging, and even enables you to enjoy your daily dose of entertainment with an Octa-Core Processor, ultra-large memory capacity of 128GB ROM, on a large 16.55cm Punch-Hole Display.
A Series is designed for making technology more fun. But more importantly, technology for these users is about enjoying its benefits, which enable them to live a socially active lifestyle. They're open to embracing the latest technology, yet practical, so they don't need all the bells and whistles. A54 offers a great mix of a stylish and contemporary design, which empowers the users to truly enjoy their lives, without hassle.
"A Series is designed to enhance or complement our users' lifestyles and OPPO A54 achieves just this with a phone that manages to balance a high-end performance with contemporary design. Its large 5000mAh battery and 18W Fast Charge makes sure you're fully powered to get you through your day. With A54, you'll also have enough storage and memory to make sure that you'll enjoy your entertainment without the frustrations of an underperforming smartphone," said Damyant Singh Khanoria, Chief Marketing Officer, OPPO India.