OPA celebrated 'Digital Printing Day'
To mark the Birthday of Benny Landa – Inventor of Digital Printing, 'Digital Printing Day' was celebrated by Offset Printers' Association (OPA) in collaboration with the Institute of Mass Communication and Media Technology, Kurukshetra University at Kurukshetra.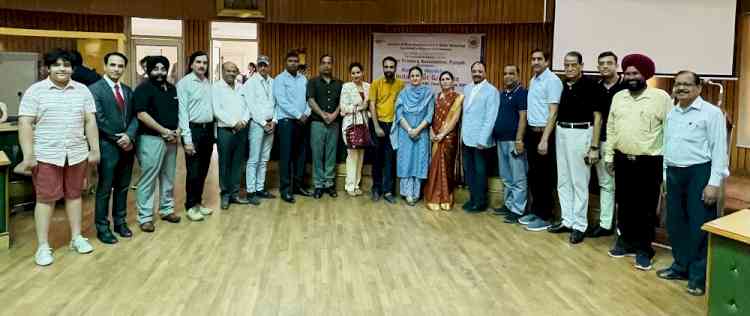 Ludhiana, June 17, 2022: To mark the Birthday of Benny Landa – Inventor of Digital Printing, 'Digital Printing Day' was celebrated by Offset Printers' Association (OPA) in collaboration with the Institute of Mass Communication and Media Technology, Kurukshetra University at Kurukshetra. Benny Landa is an Israeli entrepreneur and inventor. He founded Indigo Digital Press in 1977 and The Landa Group in 2003. In the print production industry, Landa has been called the "father of commercial digital printing." 
Founder of Landa Corp., Ltd. OPA celebrates Digital Printing Day just to remember the endless contributions of Benny Landa to the printing and packaging sector. 
National Workshop on 'Digital Print Graphics' was organized to elaborate the printing beyond ink on paper. Printers from Ambala, Ludhiana, Yamuna Nagar and Chandigarh were present besides the students of printing and packaging from KU during this day long workshop. 
Speaking on the occasion, Kanwardeep Sharma, convener of the workshop said, it is the time to think and plan for the change, when demand of commercial printing is decreasing due to internet, options are available to combine internet in Printing. Purpose of this workshop is that students and entrepreneurs may understand the various ideas, new technologies and future printing. He said, "The biggest advantage of Digital Printing is its capability to print a single copy and variable data. As the print volume increases, the cost decreases."
Welcoming the speakers and the guests, Prof. Bindu Sharma, Director IMC&MT said, at KU we are working on the methodology of industry academia networking and it is therefore we have signed MoU with some industry associations, including OPA, so that student can understand the system of working at the industry and at the same time industry can guide us about the syllabus their prerequisite so that students can be trained as their requirements. She said, we are happy to get a partner like OPA for the purpose, they are always in front foot to guide the students by way of organizing various technical seminars and workshops. 
In his recorded Key-note Address, Benny Landa expressed his happiness on observing the Digital Printing Day on his birthday. He elaborated how Landa Digital printing is now converted to his new invention 'Nanography' and said, after the invention of digital printing and my first machine Indigo 45 year ago, it was acquired by HP about 25 years back. I thought of leaving the printing industry forever and started the company called Landa Lamps for research in Nano Technology for the development of new kind of energy conversion system. For the purpose we required nano parts, we could not find these anywhere. We thought of manufacturing these nano particles ourselves. We became successful in the project only due my DNA in printing, I thought to try this with pigments and we discovered nano pigments. Thus nanography is born. Now we have already sold more than 100 machines with this new technology. He assured his presence next year during Digital Printing Day. 
Amritpal Singh Bawa, in his presentation emphasised on value addition, and said with Scodix you can create wonder and present the required WOW effect. In this age of decreasing demands of printing, there is a need to supply something unique and attractive. Mr. Bawa is the Indian Representative & heading Indian Business operation of Scodix Ltd (Israel). He informed that Scodix is the pioneer and leading provider of digital print enhancement in the Graphic Arts Industry with installation base of 400+ machines world wide and 41 machines in India. 
With his presentation on 'How to increase Profit with UV Printing Technology' Sanjeed Budhirja, CEO, Axis Enterprises explained the various options available other than 'ink on paper', for earning more. He said these are the days of innovation and producing out of box ideas, it is easily possible with UV printing, because you can print on any surface. "Our customers need shorter runs these days. And so, we can manage work with short infrastructure and skills that match the latest automotive solutions. To survive in the industry, we need to hone our skills towards something that the technology might not be able to provide," he said. He also invited the interested students and print entrepreneur for training in UV printing and presented details of machines manufactured by Axis for the purpose. 
In his address as the Chief Guest of the event, Prof. Kamal Mohan Chopra said, the purpose of this conference is not only to celebrate birthday of Benny Landa but to learn from his dedications. Digitization is the need of the hour, he said, Change is the law of universe, we are in digital era and as Landa said, everything that can become digital, will become digital and Printing is no exception. Now we have to adopt these ideas and new challenges, I know if given as a challenge, any one of you can do it, because printers are always considered to be the master craftsmen. To bridge this gap we have to include internet in printing, we have to think and apply our mind in this direction to overcome this challenge, and I am sure as a Printer and more specially as a Print Student, you can meet any challenge. Addressing the students, he spoke about the growing popularity of digital form of learning. He predicts that the number of colleges will come down as students will have easy access to various mediums of learning on digital platforms. "It gives a freedom of choice. We can be selective on what we want to learn about. The format is convenient and even the toughest subjects can be handled digitally," he said.
In his address Prof. Sunil Dhingra, Dean, Faculty of Engineering & Technology said, I am so impressed to see the industry academia relations here today. I came across many new ideas and additional information by attending today's workshop. Industry-Institute relations are backbone of any education institution and today I am happy to note the strength of relations between OPA and KU. Collaboration with industry will always keep you update about the system of working and latest innovtions.  Certificates to the participating students were also distributed at concluding of workshop.