OP Soni and Bharat Bhushan Ashu inaugurate covid-19 viral testing laboratory at GADVASU 
It will enable to test more samples of Ludhiana district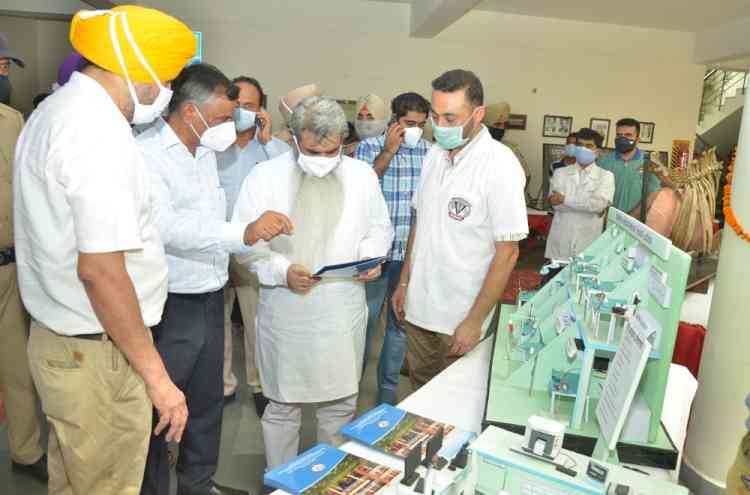 Ludhiana: The newly established 'COVID-19 Viral Testing Laboratory' at Guru Angad Dev Veterinary and Animal Sciences University, Ludhiana was inaugurated by Mr OP Soni, Cabinet Minister, Medical Education & Research, and Mr Bharat Bhushan Ashu, Cabinet Minister Food, Civil Supplies and Consumers Affairs Punjab today.

    While sharing this information Dr JPS Gill, Director of Research and Nodal Officer of the lab informed that after Indian Council of Medical Research nod to this lab we have started testing of 100 samples per day from last week. 

    Describing this event as an important moment Dr Inderjeet Singh, Vice-Chancellor, GADVASU apprised that with the functioning of this lab we will be able to speed up testing of COVID-19, as that is need of the hour for timely management of this disease. He expressed his gratitude towards Chief Minister, concerned ministers, officials, Vice-Chancellor, Baba Farid University of Health Sciences and all the Medical and Veterinary professionals for their untiring contribution to establish this lab. He said that work of scientists and employees of this lab will be remembered forever as a great service to the nation.

    Mr O.P. Soni said that with opening of this lab at GADVASU along with three other labs, two in SAS Nagar, Mohali and one in Jalandhar we will able to increase the testing capacity to 4000 per day.

    Mr Bharat Bhushan Ashu, Cabinet Minister said that it is a matter of privilege for Ludhiana district to have this lab and now we will be able to test more samples of Ludhiana district and will get speedy results.

    Mr. D. K. Tiwari, IAS, Principal Secretary, Medical Education and Research said that scientists of GADASU performed very well in the labs of Govt. Medical College, Amritsar and Patiala for COVID testing. Now their services will be more beneficial for this lab, he added.

    Mr Manpreet Singh Chhatwal, Special Secretary, Animal Husbandry said that under 'One Health' concept veterinary professionals are widening their sphere of expertise by serving humans too. Dr. Raj Bahadur, VC, BFUHS, who has been instrumental behind all these new labs said that this lab will support in a tall manner and we have great hopes from this lab.

    Mr Varinder Kumar Sharma, Deputy Commissioner Ludhiana witnessed and appreciated the functioning of the lab. Dr. J.P.S. Gill revealed that under the dynamism of Drs. Ramneek, A.K. Arora and R.S. Sethi the entire team of scientists and employees are working very diligently and dexterously for this lab.

    All the facilities, products, publications and technologies developed by GADVASU were showcased in an impressive exhibition for dignitaries and other guests.