Online remediation centre inaugurated by PU VC
PU VC releases book on domestic violence against women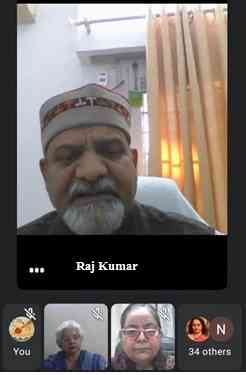 Chandigarh: Department of Community Education and Disability Studies, Panjab University organized a webinar on 'National Education Policy 2020 and Neuro – Developmental Disabilities' which was inaugurated by Prof. Raj Kumar, Vice Chancellor.
PU VC motivated the faculty and the students of the Department to be engaged in innovative activities. He said that the Government unveiled the new Education Policy on July 30th, 2020 with the objective of bringing in wide transformation in higher education sectors and make India a vibrant knowledge society.
On the occasion, Online Remediation Centre was also inaugurated by the Vice-Chancellor apart from releasing a book titled "Domestic Violence against Women" authored by Dr. Dazy Zarabi, Chairperson, Department of Community Education and Disability Studies and Prof. Kuldip Kaur, Director, FDR Research based NGO and former Director General of CRRID.  
           
The key speaker of the Webinar, Dr. Renu Malaviya, Head of Department, Department of Education, Lady Irwin College, University of Delhi and very renowned educationist in disability field, talked about NEP – 2020 and related to disability sector especially Neuro – Developmental Disabilities meaning (Specific Learning Disabilities, Autism Spectrum Disorder and Intellectual Disabilities). NEP – 2020 has paved the way for transformational reforms in school and higher education system. The policy recommendations bring a sea change in the Indian education system and make restructuring the curriculum  and pedagogy of schools and higher education more skill-oriented. She also promoted the Divyang Friendly institution. Every higher education institution (HEI) should open the Disability Centre or Equal Opportunity Centre so every disabled student will be  given rights to education. Dr. Malaviya encouraged the Indian Sign language and e-support for the neuro-developmental students in NEP – 2020.
Prof. Anuradha Sharma, formally proposed vote of thanks.