One-time settlement policy not acceptable to traders: PPBM
Expresses concern over another move to increase power tariff by eight per cent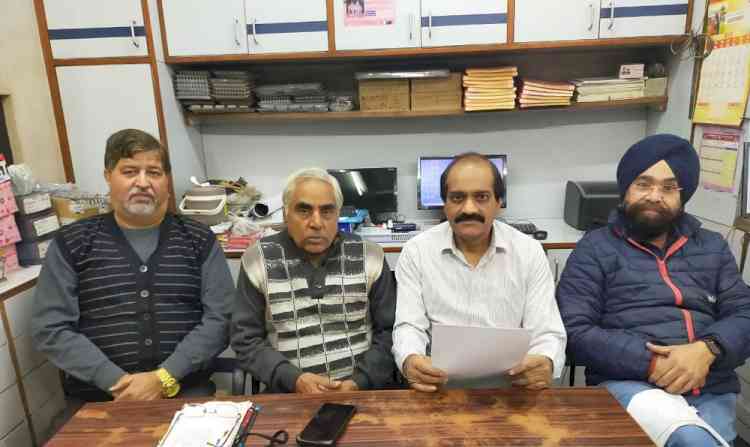 Ludhiana: Punjab Pradesh Beopar Mandal (PPBM) state general secretary Sunil Mehra, state secretary Mohinder Aggarwal, district president Arwinder Singh Makkar, chairman Pawan Lehar and general secretary Parveen Goyal addressed a press conference here, in connection with an announcement made by Punjab CM Capt Amarinder Singh with regard to one time settlement policy.     
Sunil Mehra told that the policy announced by the chief minister was not acceptable to the traders as under the policy traders whose tax comes to Rs.1 lakh have been asked to get deposit 10 per cent of this tax without interest. However, whose tax comes to more than Rs.1 lakh have been exempted from fine and interest alone. He recalled that the predecessor state government led by the SAD-BJP combine government had implemented similar one time policy for all the traders. Therefore, he demanded that the present state government must announce one time settlement policy at par with the policy implemented in the year 2013/2017 so that traders may felt a sigh of relief.
Addressing the media persons, Mohinder Aggarwal told that Punjab CM had assured the representatives of the PPBM to supply power at Rs.5 per unit. But, the chief minister had not been fulfilling its promise. Rather, the power tariff is increasing constantly. Now, there is another move to further increase power tariff by eight per cent, resulting to which there prevails a strong resentment among the traders across Punjab. 
Arwinder Singh Makkar termed the Amarinder Government policies as "anti-trader" and said 40,000 industries had migrated to other states due to these policies. He also regretted that the prices of raw material were touching newer heights because of transportation getting affected due to the ongoing agitation by the farmers. At the same time, the industries were suffering adversely due to shortage of the labour.   
Among others, Chairman Pawan Lehar and district general secretary Ashwani Mahajan addressed the media persons.