Once among the giants in Indian sport
Punjab mostly enjoy stray success nowadays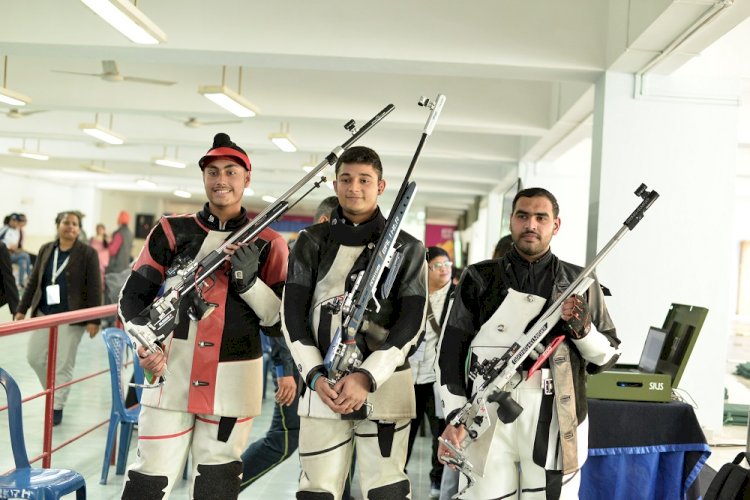 50m Rifle 3 Positions Men U-21 Medallists - Niraj Kumar (Gold), Sartaj Singh Tiwana (Silver-Left), Nitish Kumar (Bronze-Right).


1-2 for Punjab in 50m Rifle 3 Positions
  
Guwahati: Once among the giants in Indian sport, Punjab mostly enjoy stray success nowadays. Friday at the Khelo India Youth Games turned out to be one of those days, when their shooters clinched a rare one-two for them.
 
Niraj Kumar and Sartaj Tiwana proved to be in a league of their own as they shot down the gold and silver in the 50m Rifle 3 Positions U-21 men's event. Fascinatingly, the duo was neck-to-neck all the way to the finish in the finals before Niraj became the champion with a score of 452.3.
 
"I had prepared quite well for the tournament so I was quite confident of doing well," Niraj said.
 
The 20-year-old was inspired to join the Indian Army after seeing his father rise in the army officer; as a first step, he joined the National Cadet Corps.
 
"I started shooting in the National Cadet Corps in 2014. I won gold in the 2017 junior nationals and then I clinched bronze in the 2018 senior nationals. I had joined NCC because I wanted to join the Indian Army. I picked up shooting there. Now, I have joined the Indian Navy," Niraj revealed.
 
Niraj faced many financial challenges at the beginning of his career.
 
"My father has retired from the Army. It was very difficult for me to procure equipment in the beginning. NCC too supports a shooter for only one year. After playing my first nationals, I had to purchase my own weapon. But once I started winning prize money, I used it to finance my game. My family supported me as well," he said.
 
Niraj's compatriot and defending champion Sartaj was ecstatic to see his teammate win the gold.
 
"I am very happy for my friend Niraj. Both of us were neck and neck in the finals. I am happy for the Punjab team as well," said Sartaj.
 
The Punjab shooter was always interested in sports because of his uncle, who is an international medallist in powerlifting.
 
"Thank to my uncle, I was always interested in sports. I saw my friends practice shooting in my school, so one day I just joined them. Thereafter, I took up the sport seriously," said Sartaj.