KIDS AND VAAYU JOINS HAND FOR ZERO MALARIA DAY
kids and vaayu joins hand for zero malaria day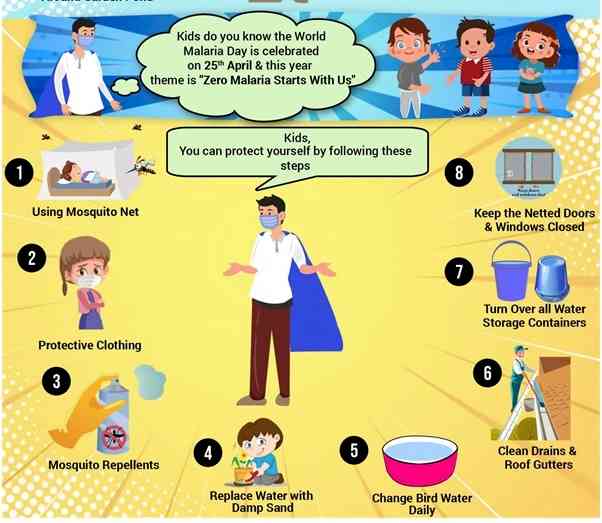 Chandigarh:
On World Malaria Day, 25th April 2020, Panjab University, Chandigarh
and PGIMER, Chandigarh released a pamphlet from the famous comic
series of Kids, Vaayu & Corona. The awareness material created by the
team shows that Kids and Vaayu Joined hands together for zero malaria.
Dr Suman Mor, Chairperson, Department of Environment Studies, Panjab
University mentioned that Malaria is life-threatening disease, which
spread to humans through infected mosquito bites. The most common
symptoms of malaria are fever, chills, and flu-like illness and
disease could be lethal if left untreated. Therefore, it is important
to create awareness and provide knowledge and information about the
causes and spread of Malaria.
Dr Ravindra Khaiwal, Additional Professor of Environment Health,
Department of Community Medicine and School of Public Health, PGIMER,
Chandigarh mentioned that World Malaria Day is celebrated every year
on 25th April and theme of this year is "Zero Malaria Starts with us".
He further stated that, while during lockdown, we remain mostly
indoor, it is important to destroy mosquito breeding sites in and
around your home and remain safe.
The awareness material shows that Vaayu and Kids joined hand together
to create awareness and identifying mosquito breeding sites and
destroying them jointly. Vaayu motivates children's to regularly check
sites, where mosquito hides and breed like such as standing water in
containers, flower pots & saucer, standing water around trash or
dustbin, garden ponds. Kids need to identifying mosquitoes breeding
sites and destroyed to control malaria, which is a carrier for malaria
parasite.
The leaflet highlighted the importance of mosquito net, protective
clothing, mosquito repellents, keeping netted doors and windows
closed, besides replacing standing water with damp sand in flower
pots, changing water for bird daily, cleaning Drains and roof gutters
regular to minimise the vector borne diseases.