On the Occasion of World Cancer Day, Renowned Film Actress Pooja Gandhi inaugurates Department of Preventive Oncology at Fortis Bannerghatta Road  
Fortis Healthcare has launched Cancer Screening Packages for Men and Women as part of its Cancer campaign #DetectToProtect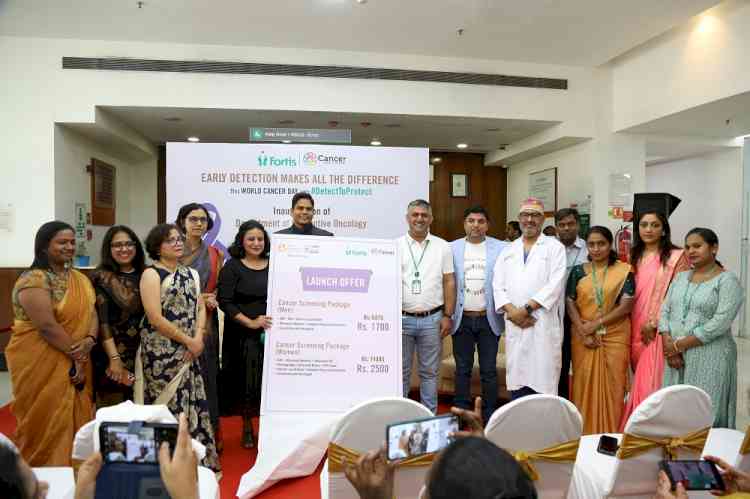 Pooja Gandhi, Renowned Film Actress along with the administrative staff of Fortis Hospital Bannerghatta Road at the launch of Department of Preventive Oncology and Cancer Screening packages.


Bengaluru, February 4, 2023: In an endeavor to create awareness on early detection and prevention of cancers, Fortis Bannerghatta Road today launched the Department of Preventive Oncology. The department was inaugurated by Pooja Gandhi, renowned Film Actress in the presence of Dr. Niti Raizada, Senior Director - Medical Oncology and Hemato-Oncology, Fortis Hospitals, Bengaluru, Dr. Parimala Devi, Senior Consultant - Obstetrics & Gynecology, Fortis Hospital, Bannerghatta Road and Akshay Oleti, Business Head, Fortis Hospitals, Bengaluru. Aimed at prevention of cancers, the department will focus on early screening and detection of cancers in early stages thereby leading to high survival rates and lesser health complications.  
Dr Niti Raizada, Senior Director - Medical Oncology & Hemato-Oncology, Fortis Hospitals, Bengaluru said, "The global burden of cancer continues to pose a significant threat to human health and well-being. However, early detection and treatment can greatly enhance a patient's chances of a successful recovery. In recognition of this fact, we at Fortis are proud to announce the launch of our preventive oncology department along with cancer screening packages. This proactive approach to cancer care will not only increase the likelihood of early detection and improved patient outcomes, but it will also mitigate the financial and emotional costs associated with advanced stage cancer treatments."  
Pooja Gandhi, Film Actress said, "I am honored to be a part of the cancer campaign. Many congratulations to Fortis Bannerghatta on the launch of a dedicated Preventive Oncology Department. This is a significant step towards early detection and prevention of cancers which will go a long way to reduce the cancer burden in the nation." 
Akshay Oleti, Business Head, Fortis Hospitals, Bengaluru said, "At Fortis Bannerghatta, we are steadfast in our commitment to providing the highest standards of cancer care. Regular screening and early detection are critical components in prevention of cancers. The launch of a dedicated Department for Preventive Oncology is just one of the many ways we are working towards our goal of comprehensive cancer management. In fact, early detection is what makes the fight against cancer stronger and successful. This World Cancer Day, we at Fortis are making it easier than ever to prioritize your health with comprehensive cancer screening packages for both men and women. It is time to take the proactive step and #DetectToProtect."