On occasion of Janamashtami, DC and CP inspect security arrangements by visiting different mandirs in city
Also urge mandir managements to ensure covid protocols are followed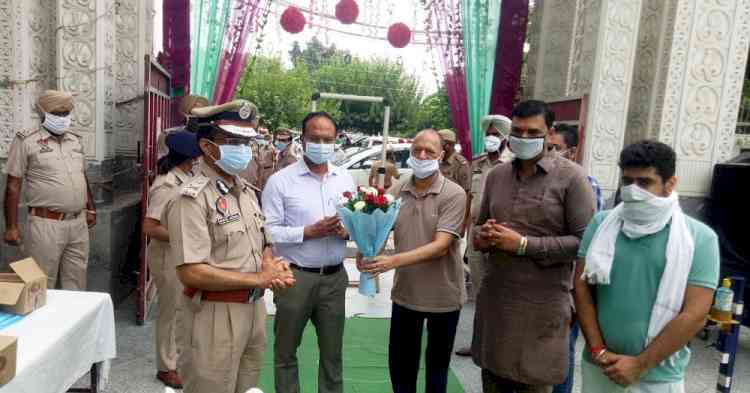 Ludhiana: In view of Janam Ashtami festival, Deputy Commissioner Mr Varinder Kumar Sharma and Commissioner of Police Mr Rakesh Kumar Agrawal today visited several mandirs in the city and inspected security arrangements there. Both the officers also urged the Mandir management committees to ensure that all Covid related protocols are strictly followed when the devotees visit the mandirs to pay their obeisance.

    It is pertinent to mention that in view of the Janam Ashtami and keeping in view the latest guidelines received from the government of Punjab, Department of Home Affairs & Justice, Chandigarh vide no SS/SCSH/2020/582 dated August 11, 2020, District Magistrate Mr Varinder Kumar Sharma, in exercise of powers conferred upon him under section 144 of CrPC 1973 has already ordered that night curfew during the intervening night of today and August 13, 2020 will be from 1 am to 5 am on account of Janam Ashtami in district Ludhiana.

    Mr Sharma informed that this relaxation has been provided to the residents only for the intervening night of today and August 13, 2020 and on the rest of the days, curfew shall continue, as before, in district Ludhiana. He also urged the mandir management committees to ensure that not more than 20 persons should be allowed to congregate at one point of time at the religious place.