Olive Cafe & Bar unveils its cool new summer menu
Olive Café and Bar has announced the launch of its cool new summer menu 'Colours of Summer'.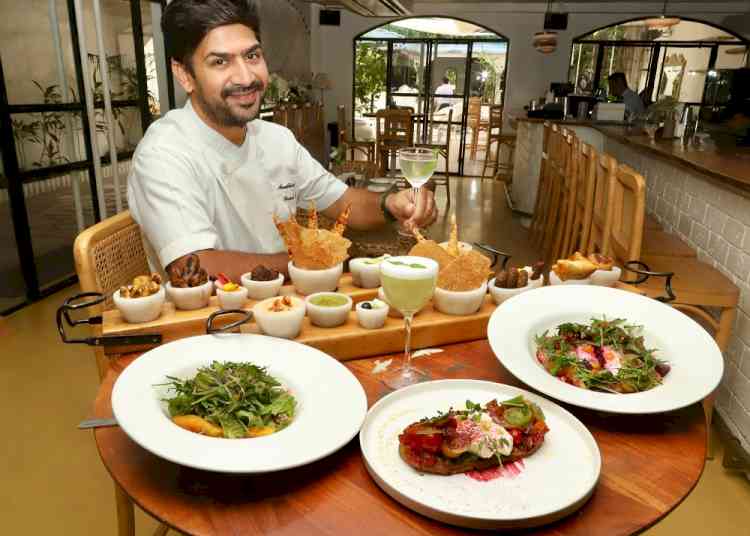 Chef Anubhav Moza explains about "The Colours of Summer', a delicious new summer menu at Olive Café and Bar, Chandigarh on May 23, 2023.


Chandigarh, May 23, 2023: Olive Café and Bar has announced the launch of its cool new summer menu 'Colours of Summer'.

The dishes in the new food menu use fresh seasonal produce thereby making the concept of farm-to-plate a reality. The menu also marks the international year of millets, with some delicious millet-based recipes.

Head Chef, Anubhav Moza while speaking to the media said, "The cool new summer menu has ingredients that are best suited for summers and provide respite from the heat. These include tomatoes, mangoes, mulberry, millets and much more. The summer menu is fresh with some healthy yet delicious options for the season."

A variety of dishes celebrate the colours of summer and flavours for the summer. One of the highlights of the new menu is the Spanish cold soup, 'Gazpacho', made using yellow and red cherry tomatoes.

The salad section has been customized to suit the summer palate. The 'Mango & Mulberry' salad is a must have. Mangoes are the fruits of the season and these have been paired with mulberries. Ingredients like cream cheese, granola, arugula leaves and Roselle-which is an edible flower and its extract is used for dressing; provide the salad an exquisite flavour.

The other signature salad is 'Beetroot, Guava and Citrus'. Guava carpaccio, golden beetroot, candy cane beetroot and goat cheese are the summer ingredients used to make this salad. Probably the only cafe to use golden beetroots! This is done to introduce guests to newer ingredients and flavours to enhance their culinary experience.

This is the year of the millet. In keeping with the international food trends Olive Cafe & Bar has also introduced some millet-based dishes.

'Avocado and Millet' is made with Foxtail Millets and Avocados. Other millets used in the dishes include quinoa and pearl barley, in various dishes.

For lunch, diners can choose from an exciting new burger menu. A major attraction here is the 'Shroom burger' that has truffle mayo, button mushroom, shitake patty, arugula leaves and cheese in brioche burger buns; served with house-made sweet potatoes. The 'Go green burger' has Avocado slices, spinach, broccoli and peas patty, cheese and charred onions.

All our burgers are made with brioche buns and served with house-made sweet potatoes.

The menu includes gourmet sandwiches and an array of bowls like the Mediterranean Bowl, Burrito bowl & Asian Bowl.

Olive Café and Bar has also introduced about 3 new hand-made pastas. 'Pumpkin and Walnut Pasta' is a big draw in the pasta range.

In the cocktails, the in-house concoctions have been made with natural fruits, and exclusive infusions of Asian herbs, coconut water, thyme, mustard, basil and more. No syrups are involved. There's a range of flavours in 'Daiquiris', a new community drink 'Beer -garita' which can be shared between 3. In Summer tipples there's 'Tropical Spiritzer' which is a perfect mix of Vanilla vodka, sparkling wine, elderflower cordial, and pineapple. Travelling tipples has Greece Athena made by mixing Gin, vermouth, fennel, lime juice and orange cordial. Olive signature tipples like Teq Tonics and Sorbet Gin-tos are best for summers. The Teq-Tonics are an array of fresh cocktails in which tequila is infused with herbs, fruits & flowers such as beetroot, hibiscus and plum & much more, and served with tonic water while the perennial favourite Sorbet Gin-To makes its presence felt on the menu as well. It's a timeless gin & tonic twisted with a float of flavored sorbets like lemon, berry & passion fruit.
We have a feeling you will love these!
Olive Café and Bar also offers in-house churned ice creams and sorbets, which are featured in the menu this time. The nostalgia-inducing cassata and choco bar are quite unique. The cassata features flavours like rum n' resin and salted caramel served with mulberry compote. The choco bar is perfectly flavoured with whiskey, banana and vanilla coated with chocolate and hazelnut.