Officials told to expedite ongoing development works, education department officials lauded for first position in country
MP Ravneet Singh Bittu, MP Dr Amar Singh and Cabinet Minister Bharat Bhushan Ashu urge people to avail maximum benefit of State, Centre sponsored schemes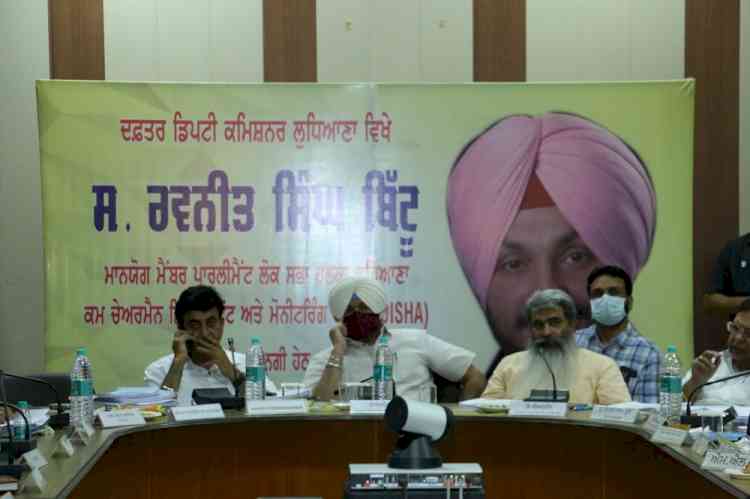 Ludhiana: Member of Parliament (MP) Ravneet Singh Bittu today directed the government officials to expedite ongoing development works in Ludhiana so that maximum number of people could be benefitted from them. He also lauded the officials of Punjab education department for topping the performance grading index in the country.
MP Ravneet Singh Bittu, who is also a Chairman of District Development Coordination and Monitoring Committee (DISHA) was presiding over the committee's meeting to review various State and Central Government sponsored schemes at Bachat Bhawan here today. He was also accompanied by Fatehgarh Sahib MP Dr Amar Singh, Punjab Food, Civil Supplies & Consumer Affairs Minister Bharat Bhushan Ashu, MLAs Surinder Dawar and Sarvjit Kaur Manuke, Political Secretary to CM Capt Sandeep Singh Sandhu, District Planning Board chairman Malkit Singh Dakha, Mayor Balkar Singh Sandhu, Zila Parishad chairman Yadwinder Singh Jandiali, MC Councillors Mamta Ashu and Harkaran Singh Vaid, Deputy Commissioner Varinder Kumar Sharma besides heads of all government departments and several others.
While reviewing various schemes, MP Ravneet Bittu asked the officers to organise awareness camps about the schemes so that people at grassroots can be enrolled under the various schemes run by central and state governments. He also asked the officers to execute the work in a time-bound manner.
The MP said that all the departments especially education, agriculture, social welfare, health, Municipal Corporation, water supply and sanitation, rural development and others need to play an active role to facilitate the people who visit their offices daily.
He also directed concerned officials to ensure that the issue related to Rahon Road is resolved permanently as it affects a large number of people.
Other issues discussed in the meeting related to widening of roads in rural areas, MGNREGA, beautification and upgradation of schools, National Social Assistance Programme, status of Railway dedicated freight corridor, Carcass plant, Shifting of dairies, Dhandra Cluster, besides several others.