OBC celebrates its 78th foundation day
Circle Office Ludhiana organises blood donation and health checkup camp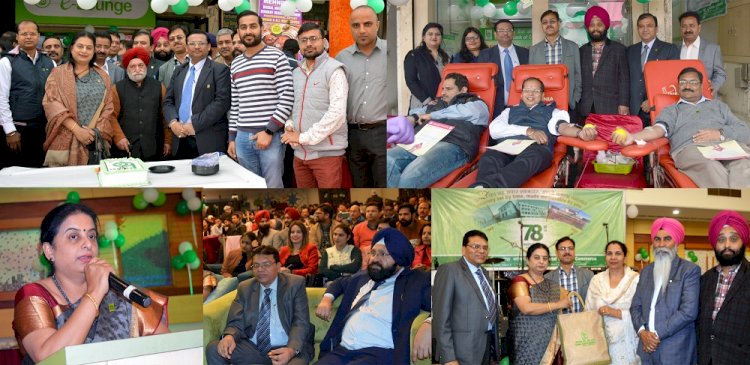 Ludhiana: Oriental bank of Commerce celebrated its 78th foundation day on 19th February 2020 at its Sarabha Nagar Branch Office. Oriental Bank of Commerce was established on 19th February 1943 under the leadership of Late Shri Rai Bahadur Sohan Lal at Lahore.
Circle Office Ludhiana, under the leadership of Smt. Mousami Majumder, Deputy General Manager (Circle Head) celebrated the day with blood donation and Health Checkup camp at Sarabha Nagar main market (Kipps market). Sh. Sanjeev Ranjan (AGM),  Sh.Sudhir Kumar ( Branch Incumbent ) along with all the staff members of Branches, Clusters and Circle Office were present. Free Health checkup was organized by Profile Hospital. 80 units of blood was collected by DMC Hospital personnel.
In the evening, under the leadership of Smt.Mousami Majumder Deputy General Manager(Circle Head), Ludhiana celebrated the evening in Le Baron Hotel where a Cultural event was organized in which Branch Managers and staff members of the Bank under the Circle Office, Ludhiana along with Prime Customers was also invited. 
The bank has been actively participating in promotion of various government schemes such as Pradhan Mantri Mudra Yojana, Atal Pension Yojana, Pradhan Mantri Jeevan Jyoti Bima Yojana, Pradhan Mantri Suraksha Bima Yojana. The bank has also been progressing towards being a model bank for retail credit and actively participating in forwarding credit to Micro and Small Enterprises.