NUFAB LAUNCHES NONWOVEN FABRIC FOR FRONT-LINE WARRIORS
TO REDUCE THE INFECTION RISK CONSIDERABLY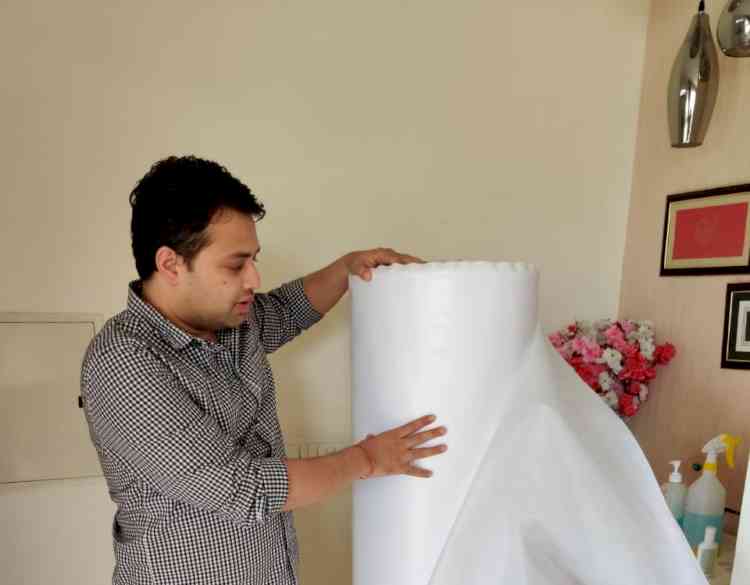 Mr. Salil Goyal, Director, NUFAB.
NUFAB Technical Textiles Pvt. Ltd., a start-up based  out of Ambala has developed a unique non-woven fabric, which will significantly reduce infection risk to frontline medical workers, who are facing heightened risk amid the Covid pandemic.
The newly developed fabric is soft, comfortable, light weight, impregnable, permeable and above all breathable, which will help frontline medical workers immensely by reducing the infection risk upto 90%.
The value-added fabric is certified and approved by DRDO and is extremely useful in making  Coveralls Gowns - personal protection equipments used by our Health Warriors.
Commenting on the launch of nonwoven fabric, Mr. Salil Goyal, Director of NUFAB said, "Our new offering is a specialised product and is certified from DRDO. Besides being lightweight, the fabric is breathable and thus, reduces chances of infection substantially. The product is our way of acknowledging the immense contribution of health warriors. We salute them for their efforts day in and day out."
"The other benefit is that it is recyclable and eco-friendly," he added.
Nonwoven Fabric can be termed as a miracle fabric. The fabric made without warp and weft weaving and knitting is called nonwoven fabric. It is commonly used for making surgical masks, gowns, sanitary pads, diapers, etc.
Apart from being used in hygiene products, nonwoven fabric is also used in Automotive, Agriculture, Packaging applications etc.
Founded by Mr. Salil along with other directors Mr. Rishabh Bansal and Mr. Sanjay Modi, the Company specialises in producing technical textile and is rapidly augmenting its product portfolio. With joint ventures in place and gunning for foreign investments NUFAB is leading the path to put India on the world map for technical textiles and nonwovens.