NTU-PU exchange MoU 
4 Students of UIET shortlisted for internship at NTU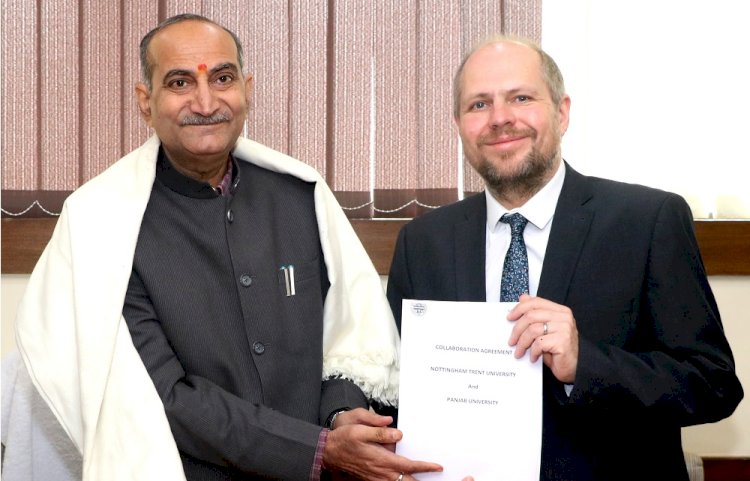 Chandigarh: A delegation from Nottingham Trent University(NTU) comprising of Mr Stephen Williams, Director, NTU Global, Dr. Philip Breedon, Prof Smart Technologies, Dr. Clare Newstead, College International Manager, and Ms. Vidhi Sahae, Sr Global Partnership Manager visited Panjab University, here today to make further progress in launching Science &Technology Partnership Programme between NTU and PU. The meeting was chaired by Prof. Shankarji Jha, Dean University Instruction and officiating Vice Chancellor and attended by Prof. R K Singla, Dean Research, Prof. Nandita Singh, Dean International Students, Prof. Savita Gupta, Director, UIET, Dr. Rakesh Tuli, UIET, branch co-ordinators from all departments at UIET and other faculty with expressed common areas of interest.
Exchange of Memorandum of Understanding (MoU) was carried out between NTU and PU. NTU and PU have been collaborating under an MoU signed in 2015, and renewed in 2019, especially for partnership with University Institute of Fashion & Technology, University Business School and Centre for Human Rights & Development at PU. This partnership is now strengthened in the area of science and technology as well with the signing of today's MoU. NTU proposes to set aside a sum of GBP 100,000 per year for three years to nurture this partnership. A detailed approach to fostering such co-operation was discussed to operationalize the agreement from the current academic session. Steering groups from UIET led by Prof. Savita Gupta, Director, UIET and Prof. Rakesh Tuli, Sr. Research Adviser, conducted thorough discussions with team from NTU.
NTU-PU S&T Partnership Centre will bring together all activities of NTU and PU under a single umbrella with focus on fostering high-quality research collaboration between the two universities. Funding opportunities for mobility of UG, PG students, research scholars as well as faculty will be available under this centre, in addition to opportunity for joint symposia, conferences and research projects. Students can apply for project and research training at NTU and faculty can apply for collaborative research activities through this centre. 
At present, 4 students of UIET have been shortlisted for internship at NTU to work in areas like medical devices and 3-D printing. All of the research expenses associated with each project will be paid and the students will be awarded a bursary.
\