NSS Wing of Apeejay College of Fine Arts celebrates International Yoga Day 
Besides yoga, benefits of same were discussed to live healthy and happy life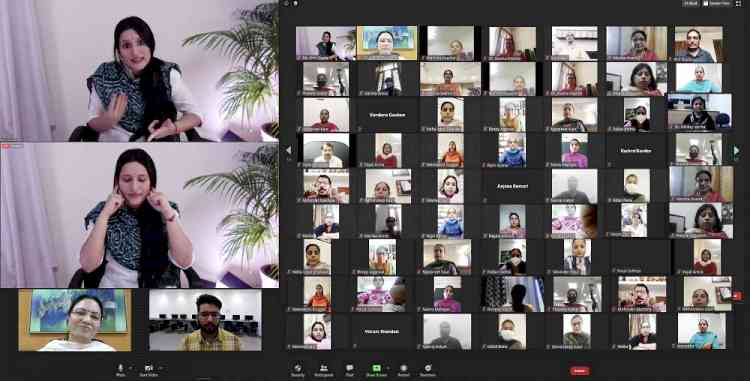 Jalandhar: The NSS Wing of Apeejay College of Fine Arts, Jalandhar celebrated International Yoga Day where not only yoga was done but also the benefits of the same were discussed to live a healthy and happy life. The Resource person of the day was Ms. Kriti Gupta who is a certified Yoga teacher.
Principal Dr. Sucharita Sharma welcomed her warmly and expressed her immense pleasure to have her and put forth to receive our own alumna as Resource Person who once had studied here fills us with ecstasy and we cannot help but bloom with pride. She put forth that her vivid and blossoming personality is itself the evidence that how yoga makes us healthy and beautiful both inside and outside. 
Ms. Kriti sharing her thoughts on the occasion of 6th International Yoga Day put forth that during this lockdown it is not only mandatory for us to keep ourselves physically fit but also to take care of our mental health and yoga is the best way for this. She also did the warm up exercises, stretching exercises and meditation tips for everyone to learn. 
She also shared that in gyming where the main focus is on strengthening the body, yoga focuses on the betterment of our body at every level i.e. physical, mental and spiritual.  She shared the ideal time for doing yoga is morning but in evening with the gap of 3 hours of having food, yoga can be done. She also suggested that it should be done properly following the correct directions and one should also take in consideration the strength of their body and should not push their body off limits or else it will harm them.
 All the faculty members were happy to be the part of this exercise. Principal Dr. Sucharita Sharma congratulated the members of NSS Wing and appreciated Mr. Harman deep for smoothly coordinating this webinar.