NSS volunteers of government home science college celebrate national youth day
Volunteers were introduced to thoughts and ideologies of Swami Vivekananda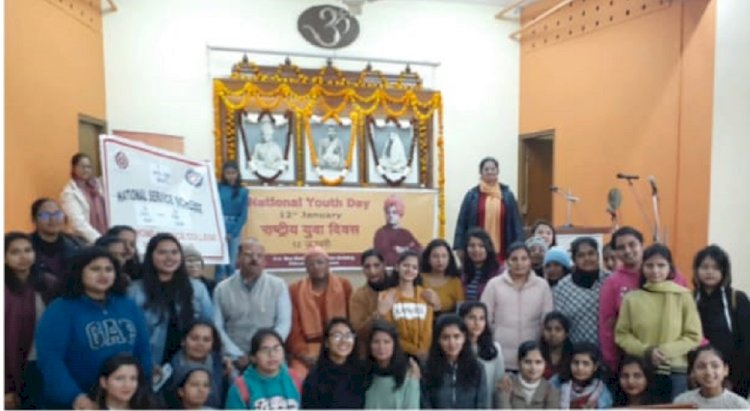 Chandigarh: Commemorating the birth anniversary of spiritual leader Swami Vivekananda and celebrating 36th National Youth Day , enthusiastic NSS Volunteers visited the Ramakrishna Mission Ashrama, Sector-15, Chandigarh where they were told the significance of National Youth day.

Volunteers were then introduced to the thoughts and ideologies of Swamiji and the importance of inculcating his spiritual as well as inspirational thoughts in our daily lives. The major emphasis was laid on the most famous quotation ' Arise, awake and stop not till the goal is reached'. Various speakers highlighted the important message by Swami Vivekananda to practice concentration and meditation. They advised the youth to  attain power of concentration and to build a good character by imbibing good moral qualities in oneself.The active NSS volunteers of the college participated by speaking on the life and teachings of Swami Vivekanandaji, reciting poems and singing patriotic song. The participants were felicitated with certificates.
During the second half of the day, a talk was organised to familiarise the volunteers to the culture, traditions, cuisines, festivals, folks etc. of the richest western state Maharashtra under the nation- wide campaign of 'Ek Bharat Shreshth Bharat'.The paired state U.T. appointed was Dadra and Nagar Haveli influenced by Maharashtrian and Gujarati culture. Mrs .Pallavi Pinga, Joint secretary of Trinity Art Society who is also successfully running the Dance Academy Kalakunj, Sector-19 D, Chandigarh was the guest speaker for the session. She introduced the volunteers to the language and commonly used words in Maharashtra. She discussed a number of tourist attractions, religious points, festivals, cuisines and common practices of Maharashtra. She also highlighted various historical facts in association with various freedom fighters, social reformers and activists of Maharashtra. She  shared her journey from Maharashtra to Punjab and further advised the volunteers to travel places around India so as to get maximum exposure of various cultures and traditions of varied places.
Principal of the college, Prof. Sudha Katyal, appreciated the effervescent team of NSS for their contribution in the celebration of National Youth day.