Novel Coronavirus (COVID 19): District Administration ready to combat any untoward situation: DC
Biometric attendance not required for land registry for time being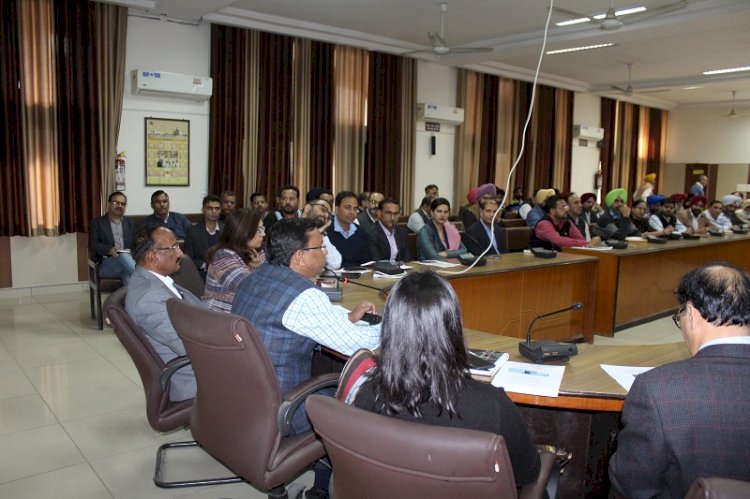 Ludhiana:    In view of the Novel Coronavirus (COVID-19) scare globally and to tackle any untoward situation related to it, Deputy Commissioner Mr Pradeep Kumar Agrawal today held a meeting with department heads of all government departments at Bachat Bhawan, here today. 
This meeting was attended by ADC's Mrs Amrit Singh, Mrs Neeru Katyal Gupta, Mr Iqbal Singh Sandhu, Mr Jaspal Singh, all SDMs and other senior officials of District Administration.
While addressing the meeting, Mr Agrawal said that the District Administration Ludhiana is all geared up to tackle any untoward situation. He stated that although the situation was not so alarming in India, but we should stay alert and take precautions to keep ourselves and others safe from novel coronavirus. We should be careful and maintain highest standards of hygiene like washing hands regularly, avoiding close contact with people etc.
He informed that as per the directions of the Revenue Department, the biometric attendance for land registry etc has been stopped for the time being. He appealed to the residents that this disease is fully curable and there is no need to panic. He also said that people should not fall prey to rumours spread on social media about Novel Coronavirus. He clarified that the District Administration has already made adequate arrangements to tackle any situation if any case of this disease surfaces in the district.
Civil Surgeon Ludhiana Dr Rajesh Kumar Bagga informed that isolation wards and flu corners have already been set up in all government hospitals of district Ludhiana. He said that health supervisors and workers have been making people aware about saving them from coronavirus. He informed that to create awareness about this disease, they have already visited all government and private primary and secondary schools, colleges, government offices, shopping malls, multiplexes, railway station, bus stands and other public places in the district. He informed that 43 response teams have been set up in district Ludhiana.
Dr Bagga stated that the symptoms of this coronavirus are cough, fever and pneumonia like symptoms. He said that it is important to know that if any person have visited China in last 30 days and is having the above mentioned symptoms, then they should immediately contact their nearest government hospital for treatment or contact at the call centre numbers. He suggested that while washing hands, one should use an alcohol-based rub or soap and water to kill the pathogen, one should stay at least 2 metre away from people who're coughing or sneezing, one should avoid visiting public places, use a tissue, or your bent elbow, to cover your cough. He said that people should avoid home remedies and should contact a doctor immediately if anyone has such symptoms.
The Civil Surgeon informed that the helpline number for district Ludhiana is 0161-2444193, or Dr Divjot Singh can be contacted at 9041274030 or Dr Ramesh Kumar can be contacted at 9855716180. He said that even the private hospitals have made arrangements to fight coronavirus, wherein 55 beds, 38 ventilator isolation wards have been set up and 45 beds have been set up in government hospitals.
Dr Bagga has appealed to residents that people should avoid contact with people having such symptoms, one should avoid visiting countries affected with coronavirus, one should stay alert from people travelling from such countries, one should avoid visiting public places, avoid handshakes and wash hands properly with alcohol based soaps regularly.