NOVEL CORONAVIRUS (COVID 19): 50 UNITS OF BLOOD DONATED TO DISTRICT RED CROSS SOCIETY
OTHER ORGANISATIONS SHOULD ALSO COME FORWARD FOR THIS NOBLE CAUSE: SDM AMRINDER SINGH MALHI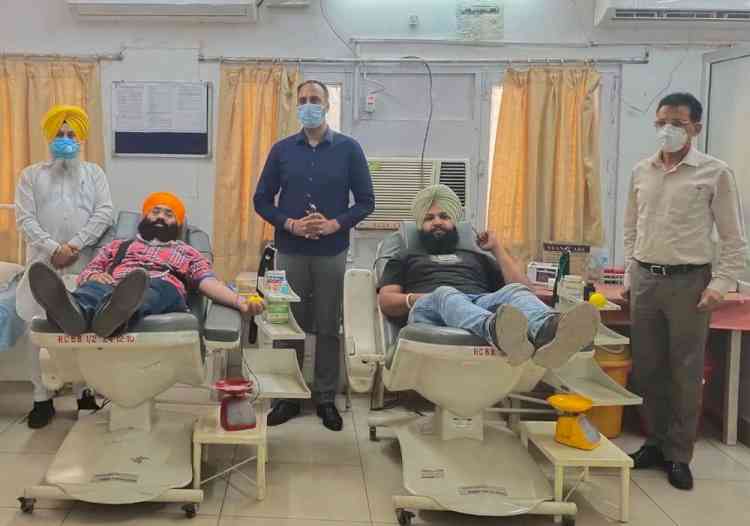 Ludhiana: In view of the Novel Coronavirus (COVID 19) pandemic, every government department is contributing for the fight against this deadly disease. The District Red Cross Society, Ludhiana, is also making efforts at their own level. The society is also running Red Cross Regional Blood Bank, Mall Road, here.
While keeping in mind the increasing demand of blood for patients in the district, the District Red Cross Society Ludhiana has appealed to all NGOs to come forward and donate blood so that precious lives can be saved.
Mr Balbir Aeri, Organising Secretary, District Red Cross Society Ludhiana, stated that responding to the appeal, several organisations have come forward for the betterment of the society. Jathedar Taranjit Singh Nimana from Bhai Kanhaiya Ji Mission Sewa Society is also supporting the society with his team members.
Today, 50 units of blood was donated by different donors and the social distancing was strictly maintained. To boost the morale of donors, SDM Ludhiana (West) Mr Amrinder Singh Malhi specially visited the District Red Cross Society and thanked all donors and Mr Nimana for their social service. He also appealed to other organisations to come forward for this noble cause that can save several precious lives.