North India's PR Industry bigwigs SpecttrumPR and The Catalysts PR sign unique pact
Establish one of a kind tie-up in PR Industry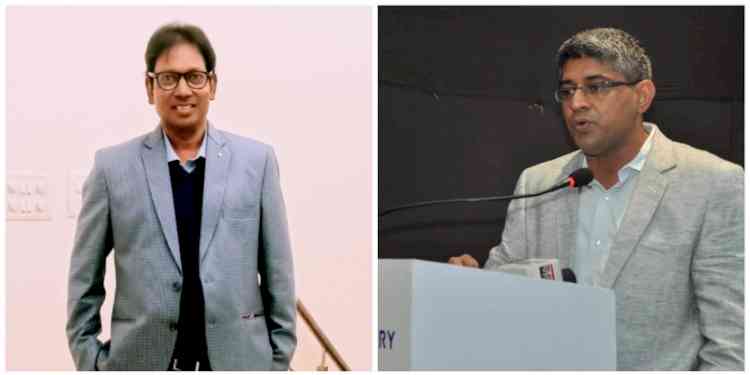 L-R: Narvijay Yadav and Sunil Sharma.
Chandigarh: Two leading public relations agencies of North India, SpecttrumPR and The Catalysts PR & Productions are now strategic partners. Both agencies have agreed to share their work with each other to give clients the best results both in traditional and digital media outlets. The Memorandum of Understanding (MoU) between the two market leaders was signed here.
 
Announcing the tie-up, Sunil Sharma, Founder & CEO, The Catalysts PR & Productions, said, "We already have a strong bond with SpecttrumPR and have done multiple projects together in various parts of India during the past five years. Under the MoU, The Catalysts PR will execute most of the traditional PR projects jointly, while the SpecttrumPR shall increase the scope of our Digital Media services through its newly launched digital media vertical - BlogsWire."
 
Narvijay Yadav, Founder Director, SpecttrumPR said, "We are extremely happy to take our professional relationship further with The Catalysts PR. With this tie-up, SpecttrumPR team will provide a wider digital coverage presence to The Catalysts PR's clients."
 
BlogsWire is a new initiative of SpecttrumPR, having a brilliant team of digital media executives. Keeping in mind the changing trend of increasing prevalence of digital media in the COVID era, which is likely to remain an important part of the news industry in the post COVID too, SpecttrumPR turned its focus on digital media management, online public relations and digital marketing in a big way recently.
 
It is important to learn that the logo of BlogsWire was unveiled by Bollywood Singer Kailash Kher on 7th August 2020 in Mumbai and he sent his blessings through a specially recorded video. Meanwhile, a leading Bollywood PR firm, H S Communications Pvt Ltd, Mumbai also signed a pact with SpecttrumPR to fulfill their digital media coverage requirements through BlogsWire.
 
Narvijay Yadav has a massive following on social media and he is also on the Advisory Board of NASSCOM Community, the supreme information technology body in the country. On the other hand, Founder of The Catalysts PR & Productions Sunil Sharma through his persistent efforts and dynamic leadership has established and positioned the agency as a front running one in the area of traditional PR and established expertise in news content writing, management, and its dissemination.