No stopping Haryana in kabaddi as state pockets all four gold
Achieves in Khelo India Youth Games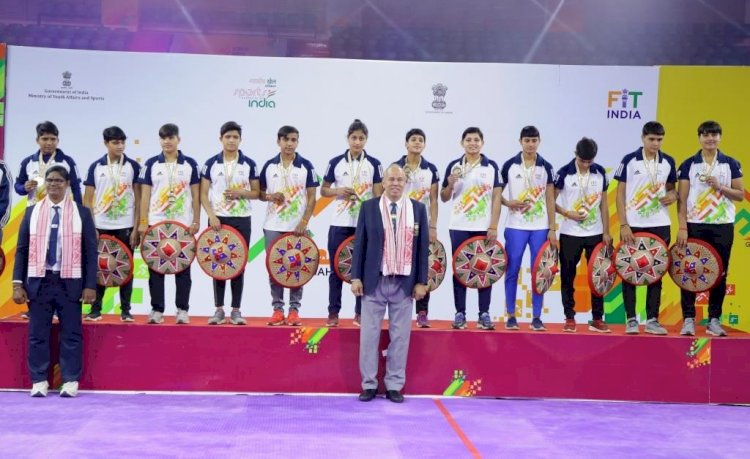 Haryana U21 Girls with the Gold Medal.
Guwahati: Kabaddi teams from Haryana showcased their dominance at the Khelo India Youth Games 2020 by bagging all the four gold medals on offer in the U17 Boys, U17 Girls, U21 Boys and U21 Girls categories.
 
Haryana, who had won gold medals in the U17 Boys and U17 Girls categories in the previous edition of the Khelo India Youth Games in Pune last year, not only retained their medals but also managed to win the U21 competitions here at the Lakshmibai National Institute of Physical Education. The U17 Girls beat Tamil Nadu 25-20 in their gold medal match, while the U17 Boys team defeated Rajasthan 42-26.
 
Whereas, strong displays in the U21 categories saw Haryana win the top honors for the first time ever, defeating defending champions Himachal Pradesh 35-32 in a very nervy final match of the U21 Girls category, and then thumping Maharashtra 41-27 in the U21 Boys category.
 
Crediting a strong grassroots structure and constant growth of the sport in the state, Haryana's U21 Boys coach Surender Singh said, "The thing about Haryana's kabaddi is that there is no dearth of talent. Each of the 22 districts in the state, have at least 40 teams. It makes our job that much easier and that much tougher because we are spoilt for choice, but it is always a good thing to have a larger pool of players when you are the coach." 
 
Traditionally, Haryana has been the leading state in kabaddi, but there has been a visible dip in recent years. However, Singh says the state is steadily building a stronger base which involves the use of modern-day techniques which shall help them climb up the ladder again. "Over the past few years Haryana's kabaddi was overtaken by Maharashra and Tamil Nadu. Our physically dominant style of kabaddi had become outdated. But some of our players went to Tamil Nadu and learnt new techniques, others went to Maharashtra and picked up speed and dexterity in attack, and came back and taught it at the grassroots. That has made us complete again and we are confident of carrying this form into the senior levels as well," signed off Singh.