No one will be allowed to suppress traders: Jiwan Gupta
Says central government will look upon difficulties faced by traders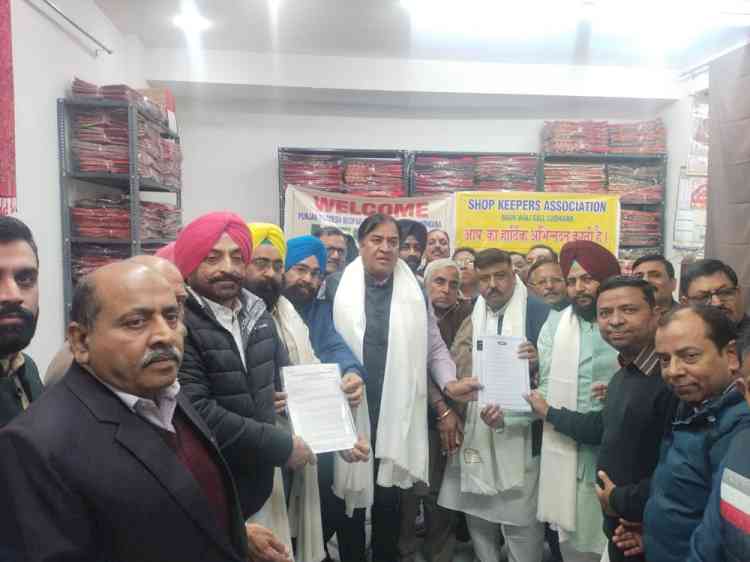 Ludhiana, December 18, 2022: A meeting of Punjab Pradesh Beopar Mandal (PPBM) held under the leadership of State Gen  Secretary Sunil Mehra, District  Chairman Pawan Lehar, Distt. President Arvinder Singh Makkar, Wool and Shawl Market Association president Rajesh Gupta here today. 
Representatives of 26 traders' union participated in this meeting. Speaking on the occasion, Wool and Shawl Market Association president Rajesh Gupta along with Ashish Gupta said that ban imposed on non-woven bags in Punjab should be abolished with immediate effect and a policy on the Delhi-pattern be introduced for the same.
Mata Rani Road Shopkeepers Association leaders Vicky Sharma and Ayush Aggarwal demanded that the parking rates varies in different parts of the city. They added hefty amount is charged for parking in MC Zone A parking, resulting to which there prevailed a great resentment. They added they have already sent representations to Punjab CM and Local Government authorities but in concrete action has been initiated so far.
BJP Punjab general secretary Jiwan Gupta said he was delighted to see unity of the traders today. He added it was good to observe that traders are coming forward for pressing upon the government to accept their demands. He assured that he would be always ready to extend his support to get resolve issues of traders at the government levels. He said no GST official would be allowed to harass traders on flimsy grounds.
BJP state finance secretary Gurdev Sharma Debi said also assured to stood behind traders. He said he would get arrange a meeting with Union Finance Minister for getting resolve issues related to GST and others. 
BJP state spokesperson Gurdeep Singh Gosha said he was fully with traders struggling for their cause. 
Sharnpal Singh Makkar, City President, AAP Ludhiana, said the state government has been elected by people themselves. He said he would get arrange a meeting of traders with Punjab CM Bhagwant Mann. All the pending issues would resolved at the government level, he assured. 
Concluding the meeting state general secretary of the PPBM Sunil Mehra said  that if the government does control the bureaucracy, corruption, then the traders and businessmen of the state will take a march against the government as we are the ones who elected the government and government is accountable for its action towards the business community.
The meeting among others was also addressed by the PPBM state general secretary Sunil Mehra and BJP Kisan Morcha  leader Kamaljit Singh Soi. Baljit Singh Makkar , Parminder Singh Makkar, Vishal Awasthi, Charanpreet Singh Lamba, Roshan Lal, Rinku Gumber and Jasbir Jashal, Ashwani Mahajan, Pawan Malhotra, Adv  Munish Ahuja, Parveen Goyal were among those present on the occasion. Various traders' associations also submitted their respective memorandums to the leaders present on the occasion.