NHAI officials should ensure there is no traffic congestion on Ferozepur road: Bharat Bhushan Ashu
Contractor of Ferozepur road elevated road pulled up for slow pace of work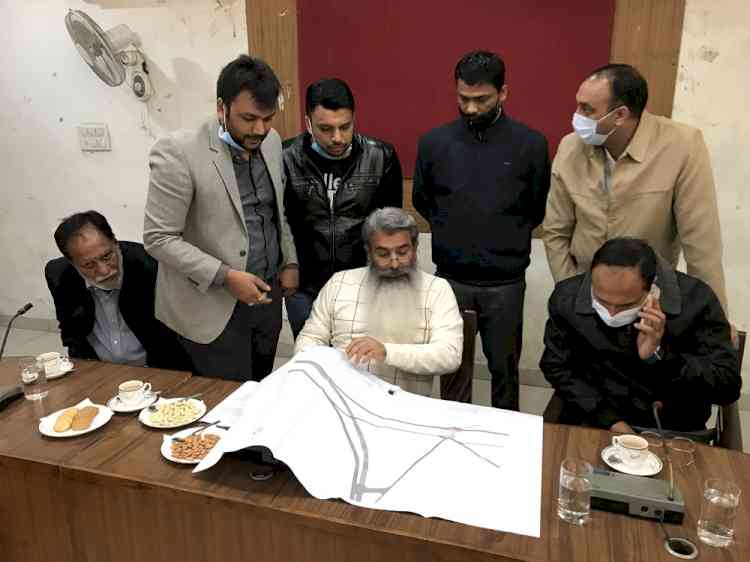 Ludhiana: Punjab Food, Civil Supplies & Consumer Affairs Minister Mr Bharat Bhushan Ashu today held a meeting with National Highways Authority of India (NHAI) officials at Circuit House, here and took up several issues related to the ongoing development projects in the district. The issues discussed today included ongoing works on NH 44, Elevated Road project (Samrala Chowk to Ferozepur Road), Ladhowal Byepass, besides several others.
    This meeting was also attended by Mayor Mr Balkar Singh Sandhu, Ludhiana Improvement Trust Chairman Mr Raman Balasubramaniam, Deputy Commissioner Mr Varinder Kumar Sharma, MC Commissioner Mr Pardeep Kumar Sabharwal, ADCP Mr Deepak Pareek, ADC Mrs Neeru Katyal Gupta, SDM Mr Amrinder Singh Malhi, ACP Mr Gurdev Singh, besides several others.
    During the meeting, Mr Bharat Bhushan Ashu took stock of the current status of the ongoing projects and directed the NHAI officials to speed up the work so that people can be benefitted from these projects. He directed them to ensure that the service lane along the Elevated Road should be completed at the earliest as due to the ongoing construction of the project, the residents are suffering. He said that the service lanes are part of every project and if these roads remain in bad shape, responsibility of officials would be fixed in writing and strict action would be taken against them.
    He also directed the NHAI officials to take strict action against the contractor of Ferozepur Road elevated road project over slow pace of work. He warned that if the speed of project is not sped up, the contractor would be blacklisted,
    The NHAI officials assured that all such issues would be dealt with on priority basis. Mr Ashu also directed the NHAI officials to complete the plan for construction of Bharat Nagar Chowk flyover going towards the Bus Stand. The PSPCL officials have been directed to ensure that all pending issues on their part should be cleared within a week.
    He also informed that for the benefit of residents of South City and other adjoining areas near Ayali, a bridge connecting both sides of the roads along the Sidhwan Canal would be constructed by GLADA. He said that the design of this project has been prepared and would be started soon. He assured them that they plan to complete the construction of this bridge in record time of 45 days.
    He further informed that with an aim to improve cycling infrastructure in the city for the safety of cyclists, a 13-km long dedicated cycling track along the Ladhowal Bypass, also known as Southern Bypass, would be constructed on both sides of this project. He said that for the safety of residents, they also plan to construct a cycling track on NH44, starting from Sherpur Chowk till Dhandari.
    He also discussed plans to connect the Ladhowal Byepass and main GT Road (NH44) with the 32-acre upcoming Jainpur Sports Park.