NGO United Way Delhi donates essential supplies for frontline workers in Ludhiana
Aimed at aiding the ongoing efforts of the government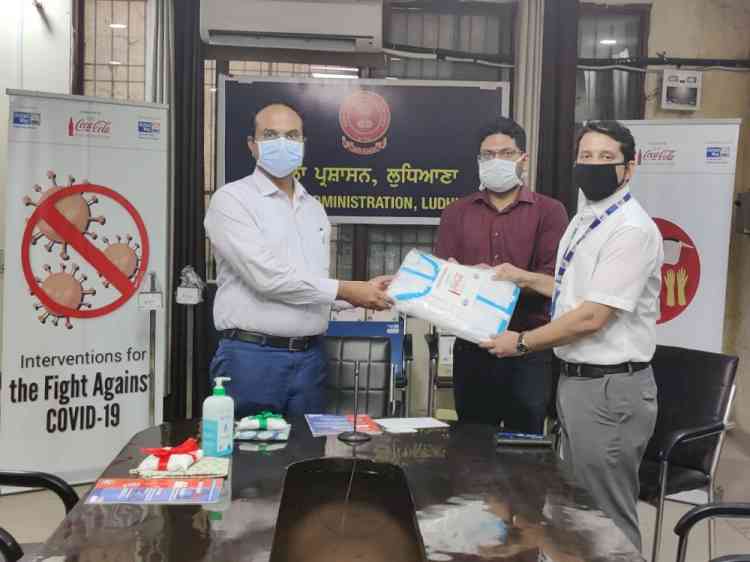 Ludhiana: With the country facing the COVID pandemic, the government is taking proactive measures for ensuring safety and security of the brave corona warriors, including the healthcare workers, sanitation workers and community health workers etc. Aimed at aiding the ongoing efforts of the government, United Way Delhi is facilitating essential supplies for the hospital healthcare workers and sanitation workers, who are facing the unprecedented situation at the forefront.  
Today, United Way Delhi has handed over the supplies for Ludhiana city's brave corona warriors. The items included 2450 PPE kits, 50 litre hand sanitisers, 5000 units of 3 ply masks, 30000 hand gloves, 1200 N95 masks, 05 ICU beds, 200 litre disinfectants, 20 non-contact thermometers, 200 litre hand wash, 20 foot operated hand sanitiser dispenser for COVID designated hospitals and COVID care centres in Ludhiana, Punjab.
These supplies were handed over to Mr Varinder Sharma, Deputy Commissioner, Ludhiana, Mr. Sanyam Aggarwal, CEO Ludhiana Smart City Ltd, in the presence of several others. Mr Vishwajeet Khanna, Financial Commissioner Revenue, Punjab and Mr Surinder Dawar, MLA, connected through video conferencing.
Mr Vishwajeet Khanna, IAS, Financial Commissioner Revenue, Punjab, appreciated United Way Delhi for their intervention and support for Punjab for tackling the COVID situation in Punjab.
Mr Varinder Kumar Sharma, Deputy Commissioner, Ludhiana said that Ludhiana being a big city in Punjab, it adds responsibility on the community as well to take initiatives to defeat the ongoing coronavirus crisis. "United Way Delhi's contribution for the healthcare workers in Punjab is one such step where we can see the organisation coming to help community and aid the government efforts. He urged other social organisations and NGOs to come forward and support the District Administration in fight against Covid."
Mr Kapil Kumria, Board Chair, United Way Delhi mentioned during the video conference to aim and align their intervention support with the state governments and donors aiming to cover all the districts in Punjab.
Commenting on the initiative, Mr. Ishteyaque Amjad, Vice-President, Public Affairs, Communications & Sustainability, Coca-Cola India and South West Asia said, "We are humbled to collaborate with our partner United Way in providing support to the health and safety of the country's frontline warriors. We are hopeful that with collective efforts and resilience, we will be able to steer ourselves out of these testing times."
Essential supplies for Hospitals and frontline workers are being donated in the cities including Patiala, Amritsar, Faridkot and Ludhiana. It is being facilitated with support from the Coca-Cola Foundation under the aegis of CSR and sister chapter United Way Mumbai.
"With the surge in positive cases in the Punjab region, it is important that we all safeguard our healthcare workers. We want to thank Coca-Cola Foundation for generously supporting our efforts to ensure essential supplies in Punjab. We are committed to contribute in the efforts of the Punjab Government to take all possible measures towards fighting COVID-19. We will continue to work relentlessly with government bodies and local institutions to support their basic needs during these times." said Mr Sachin Golwalkar, CEO, United Way Delhi.