NGO I Am Still Human holds blood donation camp for welfare of Indian Army
Rich tributes paid to martyrs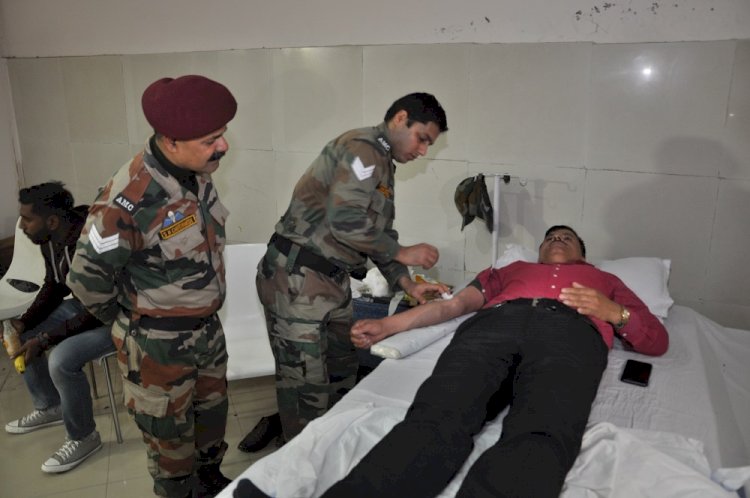 An Army Medical Corps (AMC) team collecting blood from a donor under the '9th Shaurya Blood Connect With Indian Army'.
Chandigarh: To contribute towards welfare of the Indian Army, the '9th Shaurya Blood Connect With Indian Army' - a blood donation camp was held at DLF Centre Mall, IT Park, here. Over 80 units of blood were collected by a medical team of the Command Hospital, Western Command, which will be specifically used for the welfare of veterans, serving soldiers, officers and their dependents at military hospitals.

The ninth edition of the campaign was organized by a city-based NGO -I am still Human (IASH), which is expeditiously working for the welfare of Indian Army personnel. The camp was put up in association with the corporate PCL Gateway which supported the cause under its corporate social responsibility(CSR) and DLF City Centre Mall.
Lt. Gen. (Retd) K.J Singh, PVSM, AVSM, Former GOC-in-Chief, Western Command was the chief guest. The guests' of honour at the event were S. Jagjit Singh Majha, MD, PCL Gateway & President CREDAI, Punjab & who is also a philanthropist and Brig. Satinder Singh (Retd), Director, Defence Services Welfare, Punjab.
Vivek Mehra, Founder, IASH said, "We are glad to see the response of civilians, who today came out with full enthusiasm and donated blood for their brothers' in uniform, This way a blood bond has been established between civilians and our armed forces personnel. The primary agenda of this campaign is to organise more blood for army and also inspire the young generation to join the Indian Armed forces."
S. Jagjit Singh Majha, MD PCL Gateway and President Credai Punjab He said, "I exhort civilians and people in general to come forward and help martyrs' families financially and emotionally too as they are very much 'our family', due to the supreme sacrifices martyrs make for the country and all of us without asking for anything in return."
The mall was adorned by myriad war pictures of battles fought on Punjab's soil, these dictated the several stories of valour of warriors. There was army decor also put up at different places in the mall.
A motivational session was conducted by Lt. Gen. (Retd) K.J Singh, S. Jagjit Singh Majha and Brig. Satinder Singh (Retd), Director, Defence Services Welfare, Punjab.
The event saw a tribute ceremony being held for Shaheed Sepoy Ranjit Singh Salaria from Gurdaspur, who lost his life in an avalanche incident a few days ago. Brig (Retd.)Satinder Singh conducted the tribute by way of a poignant speech about the martyr. He also shed light upon the problems and challenges a martyr's family faces. It was also announced that the expenses of education of Shaheed Sepoy Ranjjt Singh's 4- month-old daughter will be borne by 'I Am Still Human' and its members.
Others present included J.D Ghai, Founder, Santabanta.com, social worker Bobbee Singh, Manvinder Singh, Ashu Khare, Director, Rock and Storm Distilleries, Ex-Gunner Ajit Shukla, Mehakdeep Singh Randhawa and Maj. Akshay Sharma, from Command Hospital, Chandimandir.