NGO hands over five oxygen concentrators, PPE Kits to administration in war against covid19
Mamta Ashu welcomes initiative, say will provide healing touch to people in this hour of crisis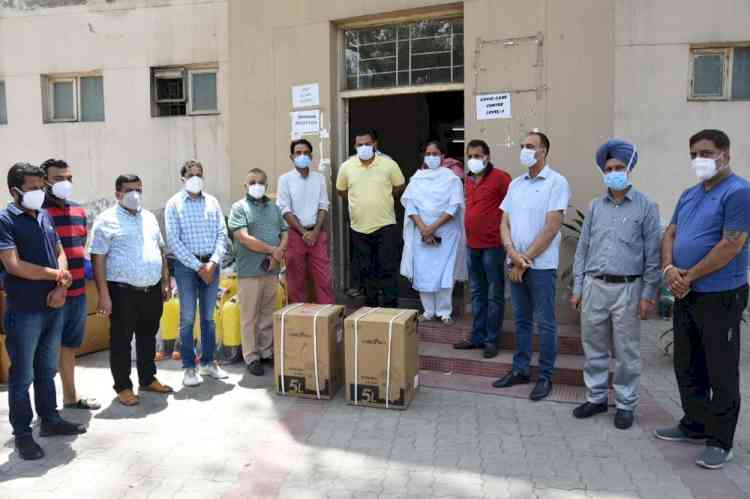 Ludhiana: Coming forward for extending a helping hand to the administration, a local NGO Nishkam Ration Sewa on Sunday handed over five oxen concentrators, Personal Protection Equipment (PPE) kits to Municipal Councillor Mamta Ashu in Covid care Centre established at Government Meritorious School, here.
SSP VB Rupinder Singh, MC Councillor Sunny Bhalla, SDM Amrinder Singh Malhi, besides several others were also present on the occasion.
Welcoming the initiative, Mamta Ashu said that it was a great service of humanity as in this war against pandemic contribution by every individual was valuable. She told that with the active support and cooperation of the people of Ludhiana, the war against Covid-19 would be won. She also lauded the role being played by NGOs for giving a healing touch to people in this hour of crisis.
She said that these oxygen concentrators and PPE Kits were of immense help for the patients and frontline staff deployed on duty in the Covid care centre. She said that these medical devices would reduce dependency on the oxygen cylinders as the equipment concentrates oxygen from ambient air by capturing and filtering the air.
Mamta Ashu stated that the administration was fully geared up to combat the second wave more effectively adding that no stone was being left unturned for this noble cause.
She said that health and frontline workers were rendering exemplary services to steer the district out of the crisis. She praised them for making an immense contribution to saving the precious lives of people.