Newly appointed state BJP president of HP Dr Rajiv Bindal reaches Palampur
Meet senior party leaders to draw plan to make state BJP more sharper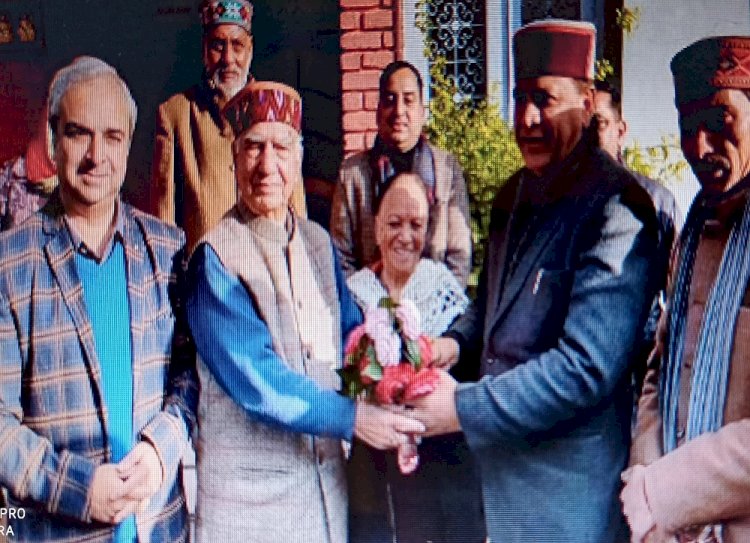 The newly appointed state BJP president of HP Dr Rajiv Bindal meets former CM Shanta Kumar . 
Dharamshala: Newly appointed state BJP president of Himachal Pradesh Dr Rajiv Bindal reached Palampur today, where he met former Chief Minister Shanta Kumar at Kumar's residence. 
Bindal said that the organization is strong but there is a need to sharpen it. He said this after a meeting with Shanta Kumar this morning. He said, "After assuming the office of the state BJP President, I am going to all the leaders who made the party stand in the state to get their guidance." He discussed with Shanta Kumar for more than an hour in closed door. 
Earlier, Dr Bindal had discussion with another Ex-CM Prem Kumar Dhumal and senior leader Suresh Bhardwaj. He said that he will also meet former state president Satpal Singh Satti to have guidance.
Meanwhile, former MLA Pravin Kumar Sharma and BJP leader Ms Indu Goswami also met him in Palampur and   congratulated him for assuming this new job.
Earlier on Friday, Dr. Rajeev Bindal met former Chief Minister Prem Kumar Dhumal in Sameerpur(Hamirpur). Both the leaders discussed on various subjects from the functioning of present government and the organization in the state. Bindal had been the Health Minister and chairman of the Pollution Control Board in the Dhumal led BJP government. Bindal was Speaker in Jairam's government before his elevation as president of state BJP.
Dr Rajeev Bindal is President of Himachal Pradesh BJP, former speaker of Himachal Pradesh Vidhan Sabha and a fifth consecutive term member of the HP legislative assembly.
He was unanimously elected president of Himachal BJP on January 18, 2020. Bindal is the son of the late Vaid Balmukund Bindal, born on 12 January 1955 at Solan. He is a fifth term MLA, presently from Nahan.