Nechung Monastery donates ration to poor
Nechung Monestry known as Gangchen Kyishong is situated below The Tibetan Library, McLeod Ganj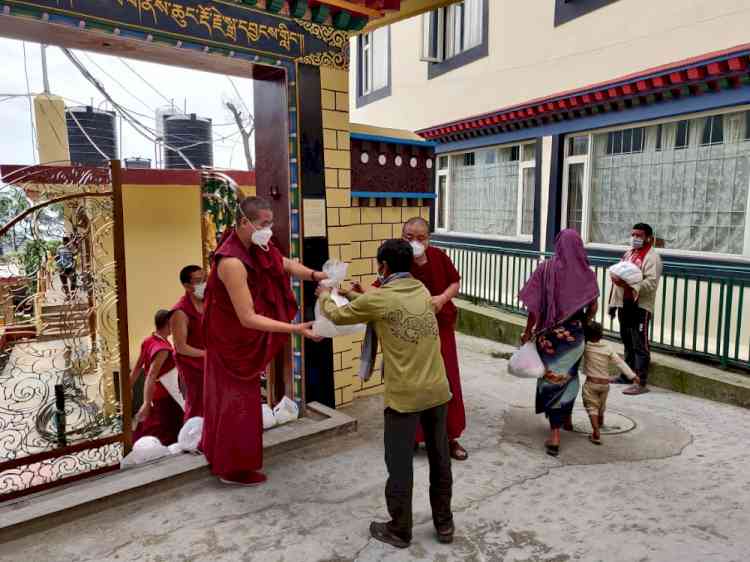 Dharamshala: In the wake of the global epidemic Covid-19 various institutions have been coming forward to help people. At the same time, Tibetans in exile in Dharamshala have also supported people in this hour of crisis. In this episode, ration was donated to the poor by Nechung Monestry in Dharamshala today. The monastery distributed this ration to about 800 daily wage workers and poor people of the area. Nechung Monestry known as Gangchen Kyishong is situated below The Tibetan Library, McLeod Ganj, Dharamsala, in Northern India, is a  beautiful and peaceful monastery and gives a good glimpse of the life of the Tibetans in Dharamshala region.
The monastery was officially inaugurated and consecrated by the Fourteenth Dalai Lama on March 31, 1985. the monastery has about 93 monks headed by Ven. Nechung Kuten Thupten Ngodup and Ven. Nechung Choktrul Rinpoche Tenzin Losel. The monks study various subjects: Buddhist philosophy, psychology, the sutra and tantra texts of Tibetan Buddhism as well as traditional rituals, creation of sand mandalas, English and computer.
The Nechung Monks perform various ceremonies for all living beings in general and particularly for the longevity of H.H.the Dalai Lama and the wellbeing of the Tibetan Government.