Nawanshahr leads Punjab by updating 99.81 percent muster rolls of MG-NREGA workers
Nawanshahr generates 12.06 lakh man-days in ongoing financial year –DC Vishesh Sarangal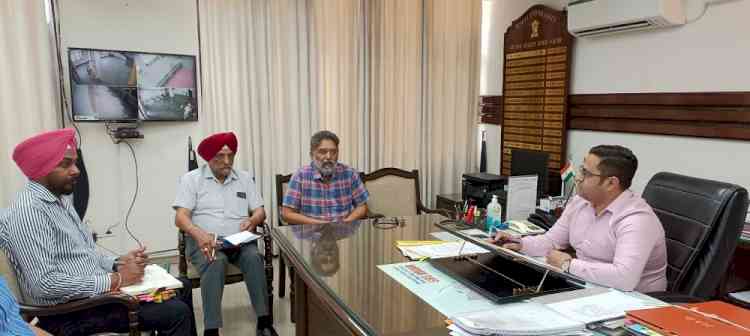 Nawanshahr, March 30, 2022: In its aim to ensure the timely payments to the labourers engaged under Mahatma Gandhi National Rural Employment Guarantee Act (MGNREGA) scheme, Shaheed Bhagat Singh (SBS) Nagar administration topped Punjab by updating 99.81 percent muster rolls of MG-NREGA workers.
Divulging further details, Deputy Commissioner Vishesh Sarangal said that that the district has updated 99.81 muster rolls on the project management information system which would ensure timely payments to the MG-NREGA workers.
Besides, the deputy commissioner said that the district has also generated 12.06 lakh man-days in the ongoing financial year.
He added that the district has also provided employment to 26700 household in this year and it has so far registered the expenditure of Rs 47.10 crores.
He said that with the updating of muster rolls on the system, the payments would be made instantly to the MGNREGA workers into their accounts by the government.
DC told that MGNREGA is aimed at enhancing the livelihood security of households in rural areas of the country by providing at least 100 days of guaranteed wage employment to them.
He told that this program ensures holistic development of the rural areas.He told the maximum works in rural areas are being initiated under this scheme and ordered the heads of various departments to give the details of the projects where the labour can be employed under this scheme. 
Further, Sarangal told the officials to make regular monitoring of MGNREGA scheme to give permanent assets to villages and daily wages to needy people ready to do physical labour.