National Youth Day celebrated and Webinar on Financial Literacy conducted at GHSC-10
NSS Unit of Government Home Science College, Sector-10, Chandigarh participated in host of activities today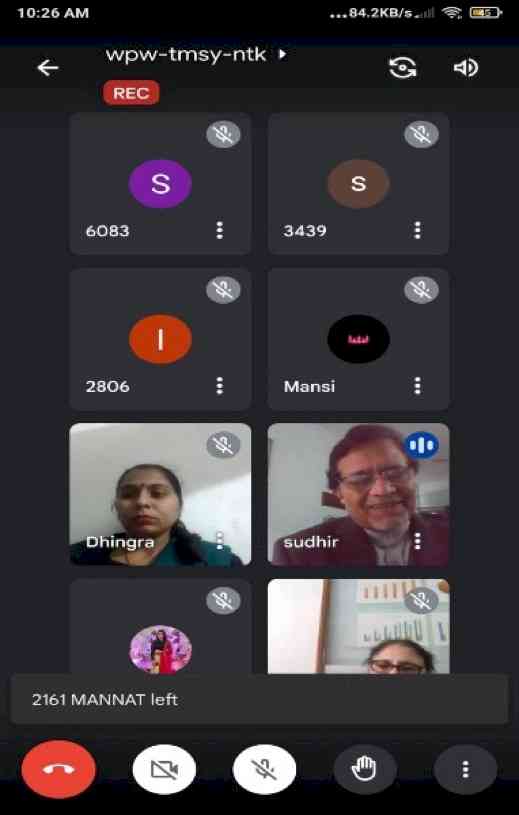 Chandigarh, January 12, 2022: NSS Unit of Government Home Science College, Sector-10, Chandigarh participated in host of activities on today to celebrate 25th National Youth Day as a part of Azadi ka Amrut Mahotsav. The day kick-started with 37 NSS Volunteers attending a lecture by the Indian Council of Philosophical Research in collaboration with Department of Philosophy, Panjab University on 'A Friend Request From Vivekananda'. Mr. Sudhir Baweja, Coordinator, Department of Philosophy & Vivekananda Studies, USOL, Panjab University, Chandigarh was the Resource Person of the event. Subsequently, 73 NSS Volunteers attended Virtual Inauguration of 25th National Festival by Honorable PM Shri Narendra Modi Ji at 11:00 A.M. He also highlighted that the most precious asset of a nation is its youth. Youth have the potential, zest and energy to uplift the country from degeneration. A country's future is lying in the hands of youth generation to strive for excellence. 
Principal of the college, Prof.Sudha Katyal, applauded the efforts of NSS Unit and urged volunteers to follow the ideals of Swami Vivekananda of purity, patience and perseverance to overcome all obstacles.
A Webinar was also conducted on Financial Literacy for the students by Mr Nishant Mahajan, Founder, Behavioral Consultant who is also a certified executive coach of Healthy, Wealthy Mind. He appraised the staff and students on the career opportunities related to Financial Management. He talked about the benefits of awareness about money matters in life and how important it is to increase one's inner world and be ambitious about one's career. A host of queries were addressed in the session which was a very informative one.