National workshop for Kashmir students at PU
Workshop is one of its kinds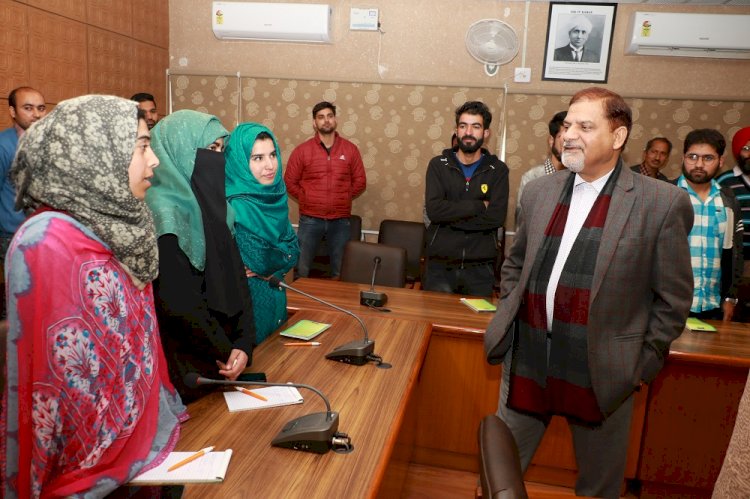 Chandigarh: A ten day national workshop on analytical instrumentation was inaugurated by Prof Raj Kumar, Vice Chancellor at Department of SAIF/CIL, Panjab University, Chandigarh, here today.
 
This workshop is one of its kinds to provide an outlook of scientific arena to the students of Kashmir, focusing on analytical instrumentation with an aim to inspire and empower students from remote areas and groom their scientific temper.
PU VC  emphasized on the need to streamline more such specialized workshops for students from Himachal Pradesh, Uttarakhand, North East states and especially Ladakh. He was overwhelmed with the appreciable number of female participants attending the workshop, in context with stepping out of their place. Prof. Raj Kumar interacted with every participant one to one.
Prof. Shankarji Jha, DUI, PU congratulated the director SAIF and the organizing committee for taking this initiative and stated that this type of workshop will sensitize the young researchers and scientists.
Prof. Ganga Ram Chaudhary, Director, SAIF/CIL highlighted the vision of Prof. Raj Kumar, Vice Chancellor to disseminate the state of the art analytical facilities available at SAIF to the students and researchers from the remote areas of Kashmir. He ensured that SAIF/CIL would continue to be at forefront in imparting research facilities and practical training to the students through such workshops. 
Dr. Ramesh Sharma, convener, proposed the vote of thanks and the students were captivated when Dr. Sharma introduced them to the facilities that SAIF/CIL offers.
As many as 44 participants, mainly post graduate chemistry students from different remote areas of Kashmir and Ladakh were seen highly enthusiastic for learning the state of the art analytical instruments and their application in research. 
Prof. Rajeev Puri (Coordinator, RUSA), Prof. Rupinder Tewari (Coordinator, CPR), Prof. Ashwani Koul (Chief Security Officer), Prof. Devinder Singh (Dr. B. R. Ambedkar Center-PU) were also present during the event.