National webinar organised by Bhartiya Sikshan Mandal 
Webinar organised in academic association with Indian Association for Management Development Varanasi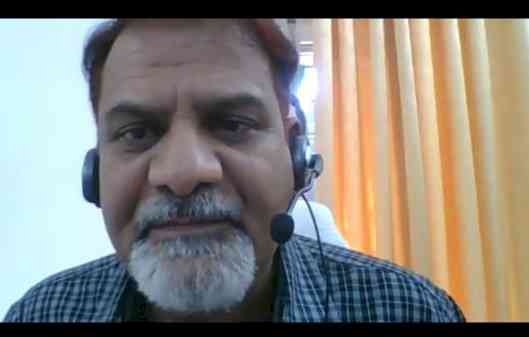 Chandigarh: Prof. Raj Kumar, Vice Chancellor, Panjab University addressed a National Webinar organised by the Bhartiya Sikshan Mandal in academic association with Indian Association for Management Development (IAMD) Varanasi, on the topic Impact of Covid-19 on India: Educational vis-a-vis Cultural Perspective, as a Guest of Honour, here today.
 
In his discourse, Prof. Raj Kumar said that fighting the Covid-19 crisis essentially requires a holistic approach that sufficiently integrates the infrastructural, social, behavioural and psychological aspects. This is the crucial period which calls for everyone to act socially more responsible and adhere to our duties as part of our society.
 
Further, Prof. Kumar said that this pandemic has transformed the centuries-old, chalk & talk teaching model to the one driven by technology. This option in the delivery of education is pushing the policymakers to figure out how to drive engagement at scale while installing exclusive e-learning solutions and taking the digital divide. He also elaborated many noteworthy initiatives that have been taken up by educational  institutions to ensure that education should reach to the students through the e-infrastructure. Thus, the digital India vision of the government is emerging as a vital instrument for solving the present crises. The technology based education is more transparent and does not make difference in front vs back benchers or boys vs girls. The use of technology in teaching and recruitment will lead to a new era where in the best faculty will be available from across the globe to the students. In this era, education quality will not just rest on quality of faculty but will rest upon the quality of IT infrastructure and familiarization of the faculty with digital technology. Still necessary strategy is required to manage the crisis and build a resilient Indian education system in future. 
 
On cultural perspective, Prof. Kumar highlighted that across the world most cultural institutions have been indefinitely closed (or at least with their services radically curtailed) with exhibitions, events and performances cancelled or postponed. In response, there are some efforts to provide alternative or additional services through digital platforms, to maintain essential activities with minimal resources, to document the events themselves through new acquisitions, and simultaneously an awareness that there would be many new creative works.