National webinar on financial empowerment of women through financial education and awareness
Organized in association with Securities and Exchange Board of India and association of Mutual Funds in India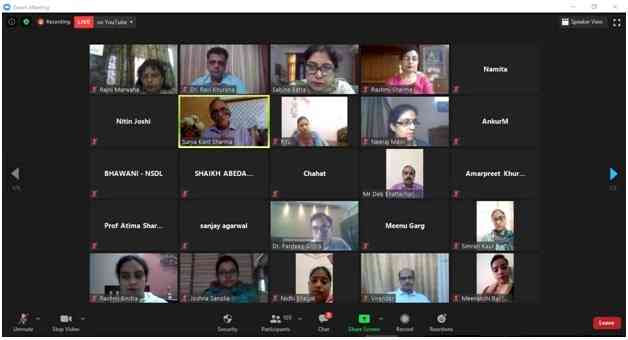 Jalandhar: To keep the students abreast of latest developments in the field of Commerce and Industry, various seminars, conferences and workshops are organized from time to time. Keeping this legacy, PG Department of Commerce and Business Administration of Kanya Maha Vidyalaya (KMV) organized a National Webinar on Financial Empowerment of Women through Financial Education and Awareness in association with Securities and Exchange Board of India and Association of Mutual Funds in India. The resource persons for this webinar were  Mr.  Deb Bhattacharjee (Assistant General Manager, SEBI), Mr. Surya kant Sharma (Senior Consultant, Northern Region, AMFI, ex DGM, SEBI), Mr. Ankur Mittal  (Assistant Vice President, National Securities Depository Limited ), Mr. Nitin Joshi (Vice President, NSDL, E-Governance Infrastructure Ltd.). The main objective to organize this webinar was to create financial awareness amongst women, who are empowered but regarding financial empowerment, they are still lagging behind. Principal Prof. Dr. Atima Sharma Dwivedi in her welcome address explained the importance of financial empowerment and contribution of KMV in making the women empowered to face the upcoming challenges.        

Mr. Deb Bhattacharjee explained the role of SEBI, Mutual funds, simplification of norms of KYC for first time investors and also told about retirement benefits. Mr. Suryakant Sharma, in his sensitizing key note address, highlighted various saving options and Investment avenues like PPF, Mutual Funds, ETFs and Gold Bonds and also explained about SIP, STP, SWP, Sukanya and Samridhi Schemes. Mr. Ankur Mittal highlighted the role, services and progress of NSDL and explained about the investment avenues in capital market. He also gave tips for prudent investments in any portfolio. Mr, Nitin Joshi and Mr. Bhavani explained about National Pension Scheme and the procedure for starting this scheme, transfer rules in case of change of job and the maturity benefits available therein. The entire session was very interactive, inspiring and encouraging. In the Question Answer session, the resource persons addressed all queries of the inquisitive participants. 

Principal Prof. Dr. Atima Sharma Dwivedi congratulated Dr. Neeraj Maini & the faculty of PG Department of Commerce & Business Administration for organizing this webinar on the most apt topic.