National Silk Expo begins at Himachal Bhawan
Beautiful workmanship on silk sarees showcased at National Silk Expo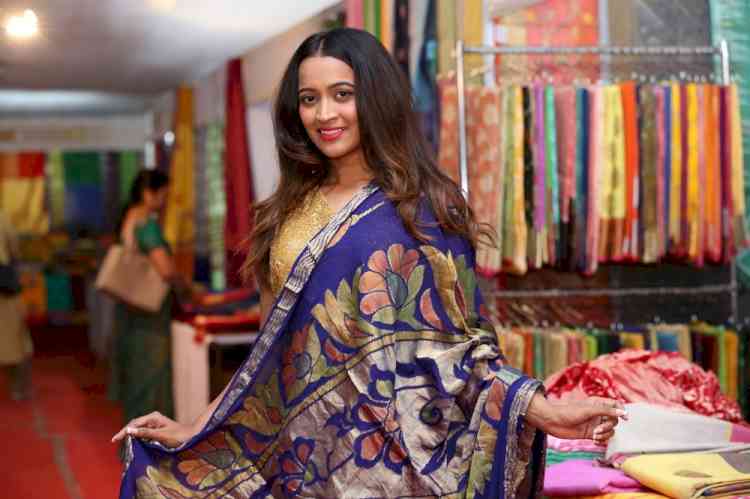 Chandigarh, August 13, 2022: The National Silk Expo, featuring the latest variety and new designs of cotton and silk handloom sarees for the festive and wedding season, has begun at Himachal Bhawan, Sector-28B here. The expo will continue till August 21. 
Jayesh Kumar Gupta the organizer of the Expo said,  "The Silk Expo offers an alluring collection of silk sarees made by weavers from different parts of the country. The exhibition has a wide range of beautiful sarees with a variety of designs, patterns, and colors."
 
Organized by Grameen Hastkala, this expo has the Double Ikkat handmade Patola sarees from Gujarat, which take eight months to produce. Such a sari is woven twice with each thread dyed separately, and being pure silk, it is a bit expensive too. On the other hand, in the Paithani sarees of Maharashtra, the visuals of village life, the royal style of the kings, and Mughal art can be seen.
 
The weavers of Banaras have done various experiments to make their sarees attractive to the new age buyers. They have enticing garden visuals  printed on Banarasi sarees, and have also woven motifs of Paithani sarees of Maharashtra. From traditional Banarasi Zari and Kadhwa Booti sarees to Tanchoi silk sarees, these are priced between Rs 1000 to Rs 5000.
 
Many weavers from Bhagalpur, Bihar, which is famous for silk weaving, have brought Bhagalpuri silk sarees to fulfill the wedding season demand. The Kanjeevaram sarees of pure zari work from Tamil Nadu are also being liked by women. Artisans prepare this saree made of gold and silver wires in 30 to 40 days. Along with Mysore silk saris, crepe, and georgette silk, tussar silk from Bihar, upada from Andhra Pradesh, and coral silk from Orissa have also been brought to the exhibition by weavers.