National seminar on innovations and skill development at Home Science College
Seminar was step towards bridging academia with industry and entrepreneurship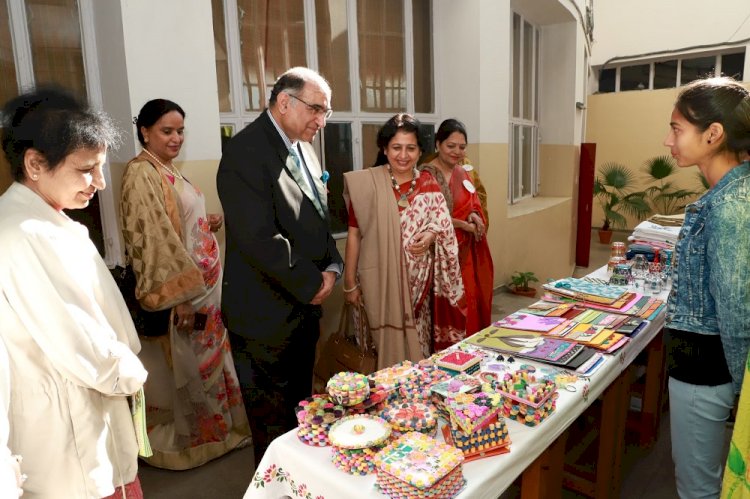 Chandigarh: A National Seminar on 'Home Science: Nurturing Innovations & Skill Development' sponsored by College Development Council, Panjab university, Chandigarh, was held at Government Home Science College on February 20. The seminar was a step towards bridging academia with industry and entrepreneurship and aimed to unleash the creative potential of every individual in sync with the multi-disciplinary approach of Home Science thereby encouraging new innovations. The seminar provided a platform for more than 150 delegates including academicians, research scholars, PhD scholars, faculty and entrepreneurs from different parts of the country.
 
Prof. Sudha Katyal, Principal, Government Home Science College, delivered the welcome address. The event commenced with the auspicious lamp lighting ceremony.  The honorable Chief Guest of the seminar, Prof. Neelam Grewal, Member, Punjab Public Service Commission, Ex-Dean Home Science as well as PG Studies PAU Ludhiana and former Director, ICAR- Central Institute for Women in Agriculture, Bhubaneshwar delivered the inaugural speech. She talked about importance of skill development in today's time and further stressed upon the necessity to identify gaps and then developing skills. She briefed the audience about the skill development programs and highlighted that ideation is the first step to Innovation.
 
After the inaugural session, a plenary session on 'Start-ups and Entrepreneurship' was addressed by Dr. Dinesh Dua, Indian Chairperson, Start-Up and Entrepreneurship cum CEO, Nectar Life Sciences Ltd. He emphasized upon need and significance of having 'Start-ups and Entrepreneurships' for today's youth. He highlighted that India has brought about dynamic changes in the start-up ecosystem owned by majority of young population. He elaborated the key drivers pushing the Indian start-up economy and concluded by motivating the audience to be innovative and become the young generation entrepreneurs.
 
This was followed by a panel discussion woven around the theme 'Ek kadam Swawlamban ki aur'. The key panelists were Emeritus Prof. Neelam Khetarpaul, Ex- Dean of IC College of Home Science, CCS Hisar Agricultural University, Hisar; Ms. Liza Chawla- founding member and President of the NGO- Chhoti si Asha; Ms. Laveleen- a renowned Dietician and Alumna of the college; Ms. Richa- founder Cleopatra, renowned Wellness and Nutrition Consultant; Mr Sumeer Walia-, Director,  Chitkara University Centre for Entrepreneurship Education and Development-CEED, Punjab and Ms. Suman Singh, AGM, SIDBI (Small Industrial Development Bank of India). The panel members discussed their journey from employee to entrepreneurs in their respective fields. The audience were informed about the various sources of funding and taking loans under various government schemes. They highlighted the role of drivers and mentors in taking forward the vision of start-ups.  They further encouraged the audience to take calculated risks for their start-ups and never lose hope in incidences of failures. They were motivated to face challenges with confidence and move ahead with high spirits.    
 
Oral and poster presentation sessions were conducted post lunch.
 
The valedictory session was chaired by Emeritus Prof. Neelam Khetarpaul, Ex- Dean of IC College of Home Science, CCS Hisar Agricultural University, Hisar. Prof. Sudha Katyal, was the co-chairperson. Highlights, recommendations and suggestions of all the technical sessions were deliberated upon and read out by all the rapporteurs.
 
Prizes were awarded for best poster presentation. The event also provided a platform to the students of college, alumni and NGO 'Choti si Asha' to display their entrepreneurial skills by putting up stalls in the college. The stall showcased a wide array of products ranging from nutritious chocolates, mini donuts, healthy muffins, handmade jewellery, health drinks, bottle covers, keychains, pouches, quilling products etc.
 
The day saw a plethora of academic activities. Principal, Prof. Sudha Katyal congratulated all the staff members for hosting this day full of academic insights and discernment so successfully. She also appreciated the young talents for showcasing their applaudable efforts and further encouraged them to keep up with the spirit of entrepreneurship by racking their brains to think out of the box.