National Packaging Conference on Recycling and Sustainability of Packaging Materials: Facts, Myths and Way Forward
Consume less, consume sensibly the plastic and packaging products: Vagish Dixit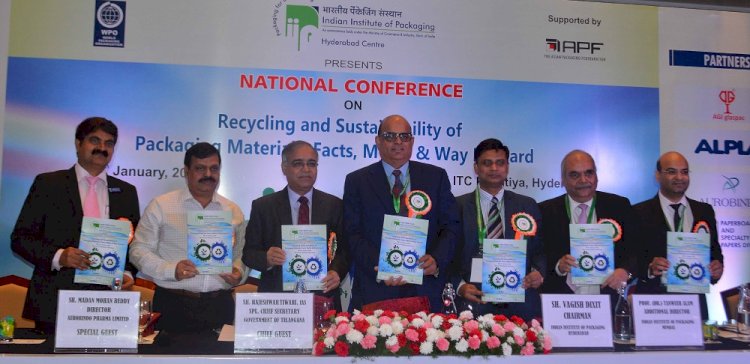 A Conference Souvenir being unveiled by Rajesh Tiwari.
Hyderabad: Indian Institute of Packaging(IIP) – Hyderabad, the local Chapter of  the apex body of the packaging industries in India to organized a one day annual National Packaging Conference with the"Recycling and Sustainability of Packaging Materials: Facts, Myths & Way Forward" here in the city at Hotel Grand Kakatiya.
 
The conference began on Friday morning. It was inaugurated by Rajesh Tiwari, Special Chief Secretary, Environment, Forests, Science and Technology, Govt of Telangana.
 
Speaking on the occasion he said plastics is not the problem, but managing it is the problem. 60 per cent of plastic is recycled currently. The balance is posing the threat. Reduction in consumption of plastics is the new Manthra. The complete ban of plastics may put undue pressure on Forests observed Rajesh Tiwari, Special Chief Secretary, Environment, Forests,Science and Technology, Govt of Telangana
 
We have to take a balanced approach. The government is open to discussions and suggestions. We invite package industry to work with the government in this regard.
 
In spite of so much hue and cry is made, people are still using plastic bags said Special Guest Madan Mohan Reddy, Director Aurobindo Pharma Ltd . Government has to play an important role in educating and creating awareness he said.
 
Both Rajesh Tiwari and Madan Mohan Reddy unveiled conference souvenir / proceedings book.
 
IIP is set by the Indian Packaging and allied industry and the Government of India, Ministry of Commerce with the objective of improving packaging standards in India informed Dr. Gaurav Madhu,  Joint Director, IIP Hyderabad in his welcome remarks.
 
Prof (Dr.) Tanweer Alam, Additional Director of IIP Mumbai said,  the objective of the conference is to learn and share from each other's experiences some of  the issues and challenges that confront the industry
 
 The Packaging industry in India is anticipated to reach US $ 73.6 billion by 2020.  It is predicted to grow at the rate 18% annually.  The Flexible packaging is growing at 25% and rigid packaging at 15%.  The per capita consumption of packaging in India is significantly lower than the global average.  So, several multinational companies are being attracted to Indian market due to the strong long term growth prospects of packaging market.
 
Packaging, especially plastic packaging is a valuable and should be recycled wherever possible. In India, approx. 65% of the plastic waste is recycled, which is much higher in comparison to advanced countries, the release stated.
 
Shri Vagish Dixit, Chairman, IIP Hyderabad explained the theme and importance of the conference. Consume less. Consume sensibly. Younger generation is much more sensible in terms of sustainability than the older generation, he said
 
If you ban plastics completely, and shift to paper, no trees will be leftover. Similarly if you shift to glass, there will be a rise of 6% temperature to the current level and world becomes unsustainable to live. Shifting metals is not the solution. So what is left is consume less, consume sensibly. E waste is a great menace. Why no one is making his and cry. That is because it is recycled. In Europe 99% of e waste is recycled. Computer dump impacts within months to the ground water table, explained Vagish Dixit.
 
The day long conference among several other things discussed Recyclability and Sustainability of Packaging Material; Myths and Reality in use of plastics; Plastics Packaging Waste; Sustainability in Packaging and making plastics work for global good etc and others.
 
Some of the speakers and panelists include SN Venkatraman, VP-Marketing, ITC Ltd, PSPD, Rajesh K Khosla, President, AGI Glaspac; Avinash Kumar, Head of Global Sourcing, Dr Reddy Laboratories and others.
 
 About 250 delegates comprised of packaging professionals both from Government and private organizations, students and policy makers are expected to participate in the same.  The conference is organised in support with World Packaging Organization, The Asian Packaging Federation.
 
The organisers strictly adhered to some sustainable practices in organising the meet. They announced that they plan to plant 100 trees each in honour of the Chief Guest Rajesh Tiwari and Special Guest Madam Mohan. They also presented them a certificate towards this effect.  They also plan to plant ten trees in honour of each of the 18 speakers at the National Conference.