National level webinar organised by PG Department of Punjabi, Lyallpur Khalsa College 
Webinar organised in collaboration with Government of Punjab to mark historic occasion on 400th birth anniversary of Ninth Sikh Guru, Sri Guru Teg Bahadur Ji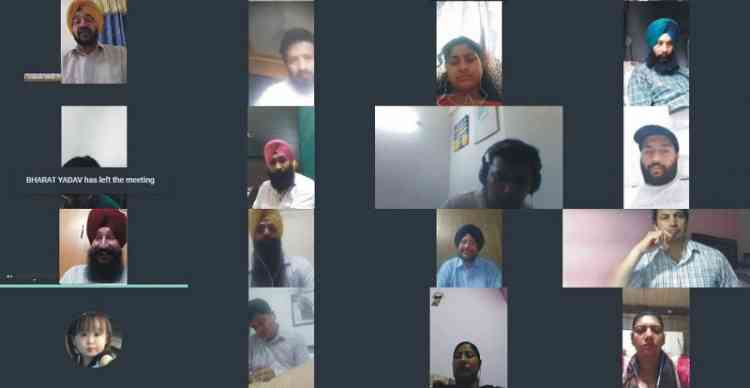 Jalandhar: A national level webinar was organised by the Postgraduate Department of Punjabi, Lyallpur Khalsa College Jalandhar in collaboration with the Government of Punjab to mark the historic occasion on the 400th birth anniversary of Ninth Sikh Guru, Sri Guru Teg Bahadur Ji. For this webinar, Dr. Sarabjinder Singh, Chairman, Guru Granth Sahib Studies and Bhai Gurdas Chair, Punjabi University Patiala was the chief orator. 
College Principal Dr. Gurpinder Singh Samra formally welcomed Dr. Sarabjinder Singh and all the participants along with Dr. Gopal Singh Buttar, Head PG Department of Punjabi. Speaking on the occasion, Principal Dr. Gurpinder Singh Samra remember the martyrdom of Guru Teg Bahadur ji as a milestone towards the foundation of religious freedom and tolerance in India. Dr. Samra also informed the audience about the work being done by the chief orator and his subsequent experience. Dr. Gopal Singh Buttar informed the audience regarding the scheme of events in the webinar. 
In his speech, Dr. Sarabjinder Singh discussed in depths, the immense contribution of Guru Teg Bahadur ji towards the formation of a unified India with suitable instances and reasoning. His lecture was followed by a very knowledgeable question-answer session where in the audience put forth their queries on the theme of the webinar. Relevant inputs were put forth by Dr. Gopal Singh Buttar, Amandeep Kaur, Jatinder Kaur along with teachers, research scholars, and students in attendance. 
The program was technically managed by Dr. Surinderpal Mand, which saw the active participation of over 80 delegates from various parts of the region along with faculty members and students of the college.