National Iconic Awards 2021 held at Zirakpur
The event was organised by Adira's Events & HM Entertainments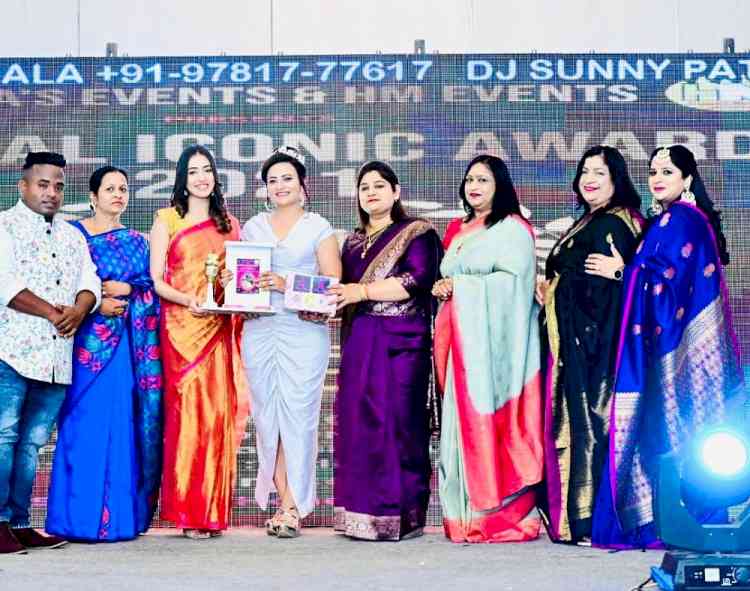 Zirakpur: The 'National Iconic Awards 2021' function was organised by Adira's Events and HM Entertainments at Hotel Park Plaza, Zirakpur. Chief guests of the programme were Sukhwinder Kaur, Queen of Punjab 2020, Noor E Hasan of Punjab 2020, and Harmesh Singh Malhi, Director, Mehar Hospital, Patiala. Celebrity Guest was Nikeet Dhillon, a Pollywood Actor. Show stopper of the show was Dr Snehlata Sandhu, Rural Medical Officer and Mrs. Beautiful 2021 & Archana Mary( Bollywood Singer)
VIP and Special Guests included Parvinder Kaur Rishu Mrs. India Universe and Mrs Determined Queen; Neha Sharma, MC, Baltana, Congress leader and a Social Activist; Sunita Jain, Social Activist; Asha Jain, MC Gohana, Haryana; Gaurav Garg, Director, Adira's Events;Sheela Garg, Rupinder Kaur Grewal, Mrs World Punjaban 2018 and Brand Ambassador Majestic Club; Dr VK Bindra , Celebrity Skin Aesthetic Physician, Medical Cosmetology & Laser specialist,A.S.Bhullar ( Famous Architecture) Manpreet Kaur Dhindsa, International Make up artist; Manjinder Dhindsa, MD, Good Life Gym and a Fitness Model;
Aditi Jain, Director, Adira'sEvents, said, "We included the theme of saree to promote the Indian culture and support the make in India initiative and most importantly we provide grand platform to represent talented people from all over India. We are thankful to Nikeet and Neha Sharma for their support."
The saree awardee was Shubhjeet Kaur- Best Kathak exponent 2021, Ritu Chandna- Best Amaging Entrepreneur , Ayushi Gupta- young Best Entrepreneur, Ritika Ahuja- Best Make up Artist, Amandeep Kaur - Best Nursing Service provider 2021, Tarvinder Jeet Kaur – Best Aroma Therapist 2021, Monika Gupta – Multitalented personality 2021, Sarojani Chaudhary (Best Entrepreneur 2021).
The Awardees of the programme were - Akhil Chatrath, Sahil Rajput Chauhan, Ashu Bawa, Sheetal Singh, Simran Kaur, Sush Hooda,Preety Kalyan, Manjeet Madra, Yashika Swarn Tuteja, Shalini Sharma, , Gagandeep Singh, Vikram Kumar, Manpreet Sarna, Mohd Israil, Sunny Malhan, Neeraj Sharma, Sonu, Neeraj Kumar and Mithlesh Dass.
Main Sponsors were- Kamal Verma, Owner, Bhawani Jewellers, Baltana and Panchkula was given the  Best wholesale & retail Jewellers award. Anish Garg and Tanishq Ranga, Directors, Zeoveda, India's Health Bazaar got the Best India Health Bazaar Award. Suraj chaudhary, Director, Bohoherbs was awarded by the Best Healthy & Holistic skin care products. Adira's Klozet was the main sponsor of sarees.
Honey Muteja, Director, HM Entertaiments, said, "We are happy that the event passed on successfully. We are thankful to all the participants and the well wishers."