National e-Conference on "Blended Teaching Learning: The Future of Education" organised at Amity University  
The conference aimed at supporting & driving innovation in the field of education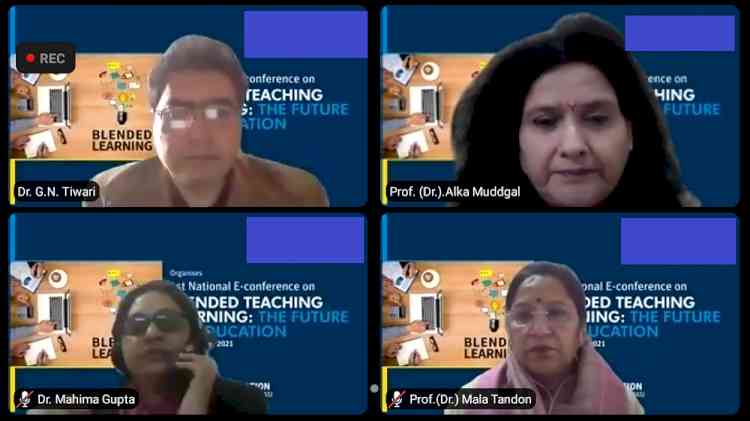 A day-long National e-Conference on "Blended Teaching Learning: The Future of Education" was organized at Amity University. The conference aimed at supporting & driving innovation in the field of education along with providing an interdisciplinary platform for researchers, practitioners, and educators to present and discuss the most recent innovations, trends, and concerns. The day-long proceedings were conducted by Faculty of Education, AUUP.   
 
Chief Guest, Prof. Saroj Sharma, Chairperson, National Institute of Open Schooling said that blended education gives students the freedom to choose the path of self-teaching & development and will prove to be very beneficial in the development of students. She added that a major challenge of students not opting for teaching is the alarming situation of the Indian teaching system. She averred that to improve this scenario, the role of blended learning system becomes more important and how visual medium can provide 90% of the information to the students in a better way. Prof. Sharma shared that under the National Education Policy 2020, the education sector must be transformed and made effective at all levels for everyone. She pointed out that there is no specific pattern of blended teaching and therefore, teachers must develop the medium themselves. It was further stated that information repository is the main requirement for blended teaching and content development, transformation and evaluation are the integral elements of blended education. She shared how teaching can be provided in rural, urban, and hilly areas with blended teaching and quality structure & how the conference is a meaningful step towards blended teaching learning.  
 
Guest of Honor Col R S Bishnoi, Executive Director, Netaji Subhash National Institute of Sports, Patiala (NSNIS) said that online teaching was conducted in the uncertain phase of the pandemic which did not affect the teaching-learning process of the students. He stressed that the evaluation of students is necessary under teaching and learning output must be considered. Col. Vishnoi said that technology is a good commodity, but one should also consider other available perspectives. If technology doesn't work, then other methods of teaching must be available, and the conference will provide insights into the future of blended teaching & learning.   
 
Prof. (Dr.) Kalpana Sharma, Dean, Faculty of Education & Director ASPESS, AUUP welcomed all the guest and panellists & gave an insight into the vision behind the conference. She shared that blended teaching-learning took off and gathered pace during this lockdown period in spreading knowledge & learning. She averred that changing times have further altered the pedagogy and the conference will outlay the future of the education sector.   
 
Themes on which sessions were organized included 'Achieving overall development of a student through blended education model'; 'Innovative teaching strategies for the 'new normal' of education for productive student engagement' and 'Overcoming challenges and barriers for universal access of education'. Also present during the session was Prof. Mala Tandon, Head of Institution, Amity Institute of Education, Lucknow; Prof. Alka Muddgal, Head of Institution, Amity Institute of Education, Noida; Dr. Harish Kumar, Head, Amity Institute of Behavioural & Allied Sciences, AUUP, along with more than 200 teachers, trainers and students who participated in the conference.