National Commission for Minorities committed for safeguarding rights of minority communities
Member Manjit Singh Rai interacts with members of minority communities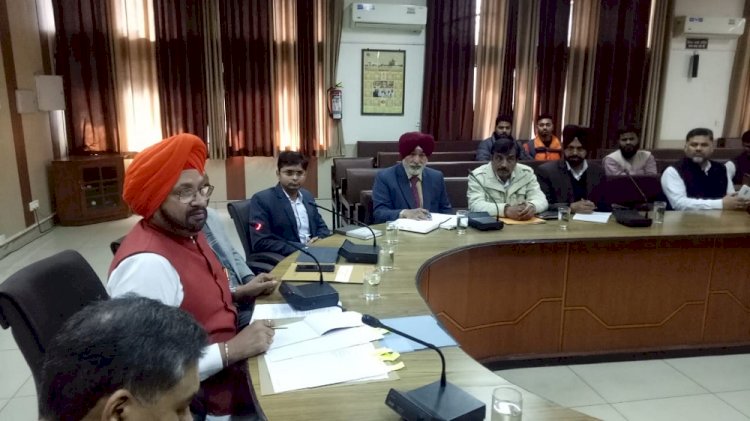 Ludhiana: Mr Manjit Singh Rai, Member, National Commission for Minorities (NCM), today said that the NCM is committed for safeguarding the rights of the minority communities. During his visit to the city today, Mr Rai interacted with the members of minority communities and later also held a meeting with the officials of 17 government departments to review various schemes for those belonging to the minority section, at Bachat Bhawan, here.
During the meeting, he discussed the implementation of a 15-point programme of Prime Minister Mr Narendra Modi for the minorities and also reviewed the status reports submitted by officials.
Some members of the Muslim community raised issues related to their burial grounds in the district. Mr Rai asked the District Administration to take immediate action on complaints involving illegal encroachments on burial grounds. He also assured the district administration that the grant for Aanganwadi centres from the Union Government would be released at the earliest. He also emphasised that scholarships awarded to children from Sikh, Muslim, Christian, Parsi and Jain minority communities should be given in time for their proper utilisation.
Directing the officials to sensitise the minority communities about the welfare schemes through awareness drives so that maximum people can avail themselves of benefits, the NCM member asked the officials of the lead bank and Agriculture Department to approve the loan applications of people from the minority communities on priority basis, especially the applications of youngsters who want to start their own business.
Those present during the meeting included ADC (General) Mr Iqbal Singh Sandhu, MC Additional Commissioner Mr Rishi Pal Singh, SDM (East) Mr Amarjit Singh Bains, Assistant Commissioner (IAS Under Training) Mr Viraj Shyamkaran Tidke, District Welfare Officer Mr Rajinder Kumar, District Agriculture Officer Dr Baldev Singh, besides several others.