National 12th Kaizen Competition held successfully
The event was organised by CICU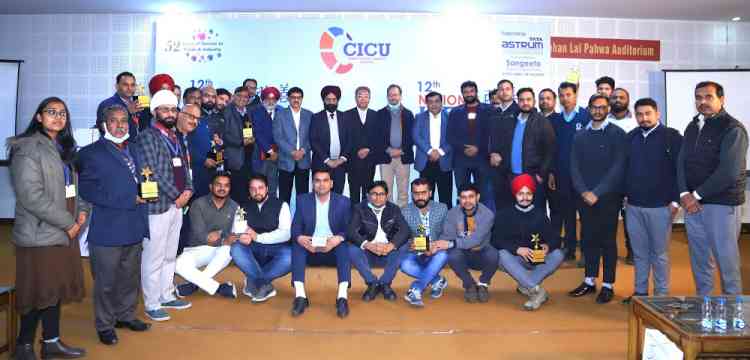 Ludhiana: 12th Edition of the Kaizen Competition was successfully held at Sohan Lal Pahwa Auditorium, Focal Point, Ludhdiana.
 
Kaizen is a Japanese word, which belongs to the business philosophy of continuous improvement of working practices, personal efficiency, etc. Kaizen is applicable in all business processes including manufacturing and engineering with emphasis on improving productivity on an ongoing basis.
 
Upkar Singh Ahuja, President, CICU said that Kaizen have been proved to bring quantum benefits to the company and employees whilst simplifying processes, eliminating waste, saving costs and other intangible benefits. It is a fact that the best ideas are born from the exchange and sharing of knowledge and experience. He further said that the objective of this Competition is to motivate for practicing KAIZEN & make it a way of LIFE. This Event provided opportunity to understand the philosophies, listen to Companies who have successfully developed Kaizen as a culture and also provided competitive Arena to witness and share the best Kaizen implemented.
Pankaj Sharma, General Secretary, CICU informed about the importance of organizing competition for the learning of other industrial units. He further said that the response, to this Competition is overwhelming, both from participating teams and attending delegates, as well as Trade & Industrial bodies in the region that have been enthusiastic in their support. Experienced employees of 20 companies presented their Kaizen in front of more than 200 audiences.
Masafumi Himeno, Managing Director, Panasonic Smart Factory Solutions India presided as Chief Guest and specially came to see new development being made by the Industry. He also distributed the Award to the winning teams and also motivated them to do their efforts for new development in Industry.
S.B Singh, Joint Secretary, CICU made efforts for this event to make it success and coordinated with the teams. He also gave them valuable suggestions to improve their presentation.
A team from C.T University also attended the Competition.
The Program was organized with the support of Sangeeta Steel Corporation (TATA Astrum).
The competition was judged by jury members comprising eminent professionals such as Jagdeep Singh, Asstt. Manager, Central Tool Room, Dr. Sanjeev Katoch, General Manager, Institute for Auto parts & Hand Tools Technology, T.P Singh, Manager (Technical), R & D Centre for Bicycle and Sewing Machine. 
The following Winning Teams got awarded on the basis of points under various categories.
It was a packed program, deliberating on number of continuous improvement suggestions, which will be shared for implementation at all levels relevance to stakeholders engaged in Trade & Industrial activities.
Grand Awards won by:
| | |
| --- | --- |
| First Award | M/s Kay Jay Forgings |
| Second Award | M/s Kangaroo Tools |
| Third Award | M/s SKG Engg. |
Silver Kaizen Awards won By
 
 

Quality

M/s Metal Metic Auto

M/s New Modern Steel Industries

Productivity

M/s Highway Industries Ltd.

M/s Farmparts Ltd.

Low Cost Automation

M/s Auto International

M/s Swaraj Automotive Ltd. Nabha

Energy Saving

M/s SKG Engg.

Cost  Saving

M/s Jawand Sons

Environment

M/s Munix India Pvt. Ltd.

SMED

M/s Kanin India