Narayan Seva Sansthan undertakes a host of initiatives to protect people from covid 19 during this nationwide lockdown
Sansthan also distributing 2000 food packets each day to needy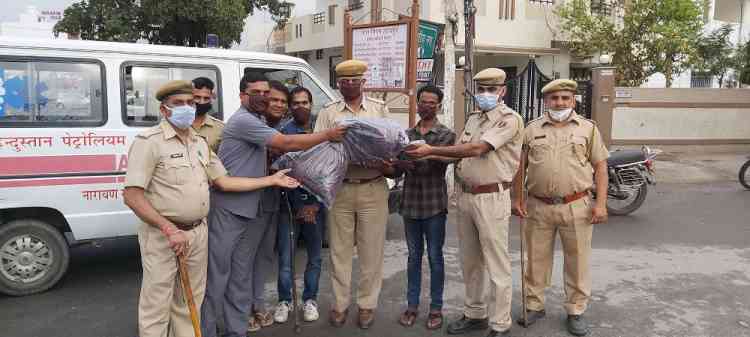 Udaipur: As the Prime Minister announced a complete nationwide lockdown for 21 days, starting 12 AM, March 25th; Narayan Seva Sansthan, a charitable organization that works towardinclusive welfare of differently-abled individuals,undertook a number of initiatives to help people sail through these testing times. 
In the midst of the 21 days lockdown in Rajasthan, differently abled individuals of the Sansthan came forward to sew COVID 19 masks that are to be distributed for free amongst police officials and underprivileged people living in the shelters in Udaipur. To control and mitigate the spread of the novel Coronavirus, 2000 masks have been made, which the local SHO police officer Dr Hanwant Singh will distribute for free, across Udaipur. 
As a part of the initiative, the Narayan SevaSansthan's team is also distributing 2000 food packets each day to the needy. 
Speaking on the initiative, President of Narayan Seva Sansthan, Mr Prashant Agarwal, stated that, "It is times such as this, when it is imperative that we as a society come together to collaborate and work in collective unison to help each other in whatever way possible. While we agree that a complete lockdown is the need of the hour to fight against this global pandemic, we also understand that there are certain sections of the society who do not have adequate means at their disposal to protect themselves and their loved ones. We do not want anyone to sleep hungry in the city."
"Our team is constantly working to handle the situation at hand and extend all possible assistance to the local police team in the city and people who are needy. The epidemic has engulfed the entire world and spreading rapidly. Therefore, protecting each and every one is absolutely critical. In the coming days, we will be rolling out more such initiatives.", he added. 
In a major humanitarian gesture, NSS has already donated 2 lakh to the Rajasthan Chief Minister's Relief Fund by handing over the cheque to Mrs. Sheetal Agarwal, Deputy Director at the Department of Information Technology Rajasthan Government to fight against Covid-19 in the state.