"Namma Oorina Rasikaru" brought to life on Katte
The well-known work of Goruru Ramaswamy Iyengar, better known by his pen name 'Goruru' Is being brought to life.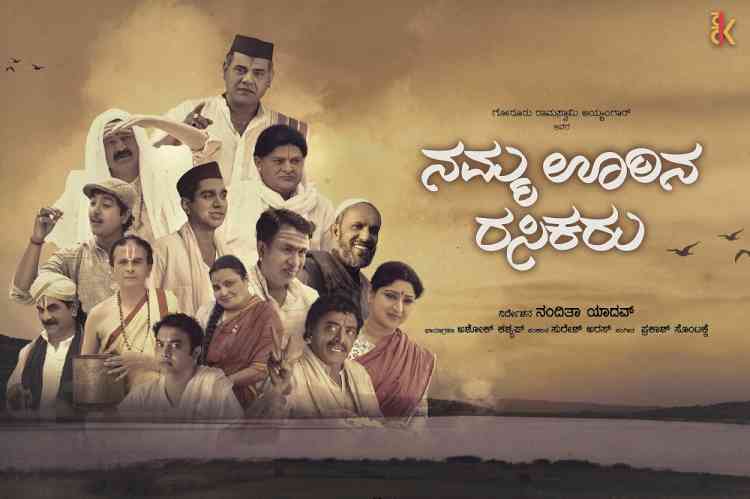 Set in the pre-Independence period, in the midst of the British raj and the Quit India Movement, it has its own thread to weave. This thread is entangled with loads of joys, sorrows, humor, drama, exploitation, politics, expectations, decisions, complexes, casteism, opinions, friendship, relationships and many more masalas to make it a complete drape.
Shaam Iyengar, fondly known as Shamanna is Mukhiya of the village of GORURU, the man of his words and sincerity. The crowning glory of the Western Ghats, the stunning small village of GORURU will be on Katte OTT. 
From the coconut plantations, green paddy fields to dense jungles, scenic waterfall, houses surrounded by lush greenery, cool water of Tunga river, grassy hillocks, rich heritage, fingers licking cuisines and incredible flora and fauna, an unadulterated nature is a spectacular sight to behold.
This natural paradise has its own tales to tell, if you wish to experience the place and people of GORURU in its purest form, you should take a virtual tour of Namma Oorina Rasikaru.
Shaamanna is a very well-built, generous man, who is physically and mentally strong, manages the whole village with his undisputed judgment. Saraswati, his very beautiful wife who is smart, and is the right mix of brains with beauty and solves all problems with care and wisdom, Shaamanna chooses the straightway. Both are the pillars of Namma Oorina Rasikaru.
Every episode will revolve around loads of emotion, funny situations, foolish behavior, ego clashes, love, hatred, revenge, misunderstandings and lots of laughter.
Each episode will start with a problem, where there is a lot of confusion and misunderstandings, but the villagers solve the problems by the end of the episode. But not all stories will have happy endings.
This series will be the purest form of life and it's a celebration, a treat for the audience with a variety of flavours to serve on their platter.
The serial is directed by Nanditha Yadav, writer and director of the movie "Rajasthan Diaries" (a bilingual film made in Kannada & Marathi) which is due for release. She is also the Writer and Director of the movie "Raju's Medal" (2017) which won the state award.
She has worked as the entertainment head at Dfine arts for 2 years, headed the company and created and produced various Web content, GEC's and Digital films.
Nanditha was heading Zee theatre at Trickitainment for 5 years as Creative Head where they created and shot more than 70 plays from across India.