NABARD sanctions Rs 35 lakhs to IIT Mandi and EWOK Society 
To set up 3 farmer producer organisations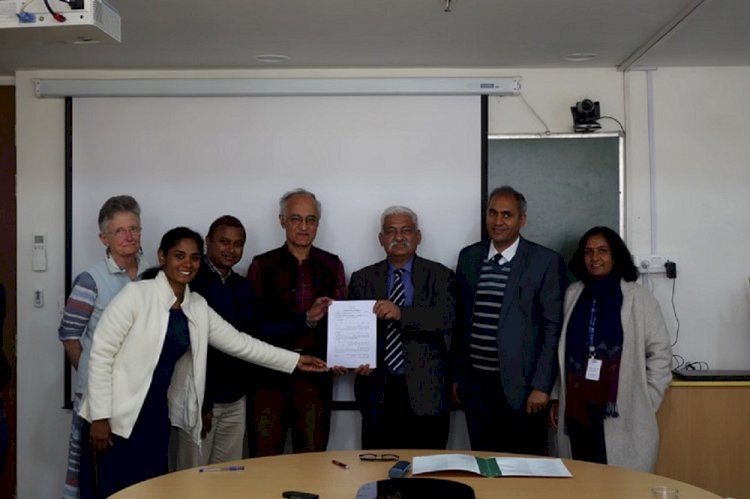 Dharamshala: Indian Institute of Technology Mandi along with the Enabling Women of Kamand (EWOK) Society of IIT Mandi, have signed a Memorandum of Agreement (MoA) with the National Bank For Agriculture And Rural Development (NABARD) for collaboration on setting up Farmer Producer Organisations (FPOs) in Mandi district of Himachal Pradesh. The MoA was signed by Dr. Venkata Krishnan, Dean Sponsored Research and Industrial Consultancy (SRIC), IIT Mandi and  Ms. Sandhya Menon, Secretary, EWOK Society; and Mr. Nilay Kapoor, Chief General Manager, NABARD.
Speaking about this  collaboration, Dr. Venkata Krishnan, said, "IIT Mandi is pleased to have this collaboration with NABARD. With the recent MoA signed, IIT Mandi and EWOK society will be able to connect and help the community at large in Himachal Pradesh".
Expressing his views on this collaboration, Mr. Nilay Kapoor, Chief General Manager, NABARD, said, "NABARD, Himachal Pradesh Regional Office is delighted to sanction three Farmer Producer Organizations to EWOK and IIT, Mandi. This marks a new beginning for collaboration with prestigious institutes like IIT, Mandi. The Regional Office proposes to sign a tri-partite agreement involving NABARD, EWOK and IIT, Mandi for developing farmer-friendly equipments. In addition, opportunities will be explored for collaboration in areas like Internet of Things in Agriculture, Watershed, Rural Mart etc. I am sure, our collaboration will go a long way in solving the problems of farmers of the State and achieving the dream of Doubling of Farmers' Income".
Since the first batch of 97 students joined in July 2009, IIT Mandi has grown to currently host 125 faculty and 1,655 students who are enrolled in various programmes of studies in undergraduate, postgraduate and research programmes, and 1,141 alumni. IIT Mandi is a fully residential campus with 1.4 lakh sq. m. buildings completed.