MYCON-2022: Health industry experts call for a robust nursing ecosystem
Paramedify powered by Zen Learning a unique initiative to up skill nurses, unveiled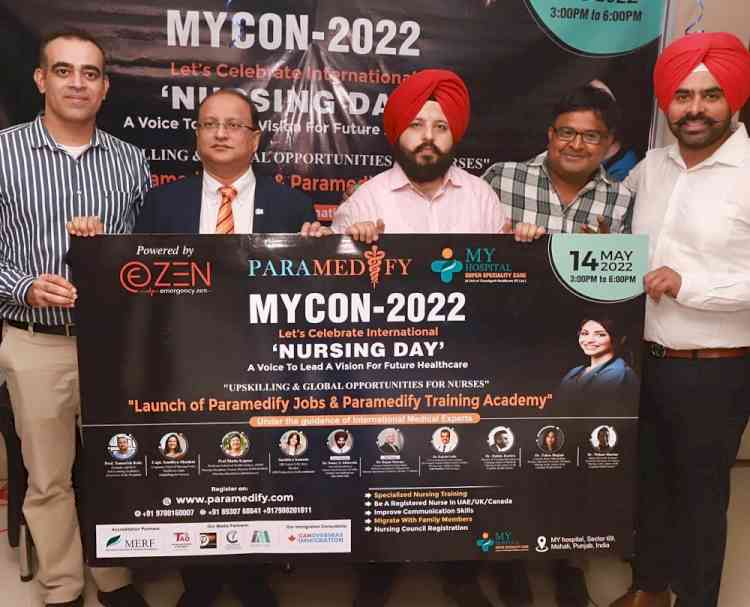 L to R: Tanvir Singh, CTO of Paramedify, Prof. Tamorish Kole, Founder & MD ZEN Learning Academy, Harkanwar Singh, Dir & CEO of Paramedify, Harit Kumar, CMO of Paramedify and Paramvir Singh, Admn. Head of Paramedify during an event held to unveil 'Paramedify Jobs & Paramedify Training Academy' on the sidelines of health conference MYCON at MY Hospital in Mohali on May 14, 2022.
Mohali, May 14, 2022: A health industry conference MYCON-22, showcasing high end deliberations involving experts from different fields of healthcare, stressing the need for up-skilling 'nursing', leading to Jobs Globally concluded here today. Paramedify, a unique initiative of tricity youngsters aimed at building a robust nursing ecosystem, which adds value to the healthcare system by bridging critical nursing gaps was also unveiled at an interactive session with media on the sidelines of MYCON-22. Paramedify has collaborated with Zen Learning Academy (ZLA) and MY Hospital here, for up-skilling nurses for placements not only in India but also globally. The conference was organised to coincide with  ongoing celebrations of 'International Nursing Day'. 
 
"The idea is to create a best-in-class offering for nurses, doctors and aspiring allied healthcare professionals, who are equipped with future skills and competencies to meet the last mile healthcare delivery in India," said Prof Tamorish Kole, Founder of ZLA and Visiting Professor at the University of South Wales, UK, at a media interaction at MY Hospital. He added that the first initiative will be the launch of an online skills assessment program, tailored for real-world applicability and employability while meeting accreditation requirements.
 
"As per the International Nursing Council (ICN), the global shortage of nurses by 2030 has been pegged at 13 million including India's additional demand of 4.3 million by 2024. Paramedify aims at creating an empowered health workforce and doing its bit to fill the gap," said Harkanwar Singh, Director and CEO, Paramedify. Harit Kumar, Director and CMO, Paramedify, and Tanvir Singh Sra, Director and CTO, Paramedify were also present.
 
The initiative assumes significance as a recent WHO report suggests that India requires at least 1.8 million doctors, nurses and midwives to achieve the minimum threshold of 44.5 health workers per 10,000 population in 2030.
 
"The MY Hospital, Paramedify, and ZLA collaboration  will bring specialized nursing training and help an aspiring nurse  to become a registered nurse in the UAE, the UK or Canada. The first nurses' training centre will be unveiled at MY Hospital soon ," said Dr Rajesh Gulia, CEO Cum Director, MY Hospital.
 
Meanwhile experts deliberating at MYCON-2022, opined that in 2016, the High- Level Commission on Health Employment and Economic Growth (Com HEEG) of WHO emphasized that a targeted investment in the health workforce promotes economic growth.
 
"At MYCON-2022, experts unanimously stressed on the need for increasing investment in the health workforce, which is a driver of progress towards several Sustainable Development Goals (SDGs)," said Dr Rajan Sharma, Former National President, Indian Medical Association(IMA), who joined the conference virtually.  
 
Dr Sunny S. Ahluwalia, Spokesperson, Aam Aadmi Party(AAP), Dr Sunny S. Ahluwalia,  who also participated through Video Conferencing in MYCON assured to include the venture in Punjab Government Policies for Employment Avenues,  "The Punjab government is in support of such innovative initiatives that not only strengthen the health system but also create jobs."
 
Captain Sandhya Shankar, Corporate Chief of Nursing, Fortis Healthcare, India, said in her virtual address that India is experiencing an acute shortage of qualified nurses, which results in a lower nurse-to-patient ratio. The global nursing workforce was estimated in 2019-20 as being 27.9 million nurses. Prior to the pandemic, the global shortage of nurses was estimated at 5.9 million nurses. Nearly all of these shortages were concentrated in low and lower middle income countries. In addition, due to knowledge and practice gaps, this acute shortage of nurses further compromises the safety of healthcare systems. Thus, sensitization of nurses and policy makers towards investing in quality education,  building skills and competencies is the need of the hour.
 
 "Nurses are the pillars of the health care systems - everyday they work tirelessly to make a difference, impacting the lives of individuals and families" said Dr. Zahra Shajani, Associate Dean Undergraduate Practice Education, University of Calgary. 
 
"The Canadian health care system, like systems in India and around the world, relies on highly trained nurses working in an integrated health care team to deliver high quality, patient-centred care," said Dr. Nishan Sharma, Assistant Research Professor, Community Health Sciences, University of Calgary (Canada).
 
"Education is a powerful tool to not only improve ourselves, but to also improve the health and well-being of our communities. Access to high quality education can then translate to the provision of high-quality patient care," said Dr Rahim Kachra, Clinical Associate Professor of Medicine, University of Calgary.
 
Dr Shajani, Dr Nishan and Dr Kachra expressed their views virtually at MYCON 2022.